Full Tilt Poker Room Tips
Poker Room Features Tips
The Full Tilt Poker room is a great piece of software that has lots of hidden features. To help you find these nice little features, here are some Full Tilt tips about the room. Enjoy!
Bet slider options.
One of my favorite features at the Full Tilt poker room is the ability to modify the bet slider to your liking. You can change the sliding system between:
Classic
Linear
Exponential
Where classic mode puts the mid-point of the slider as half the size of the pot, the linear mode puts the mid point of the slider as half of your stack and the exponential mode makes the slider increase slowly at the start, but rapidly increases toward the end.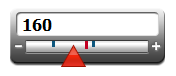 You can also choose to have the mouse wheel control the slider, and also whether or not to have guide marks on the actual slider to help you make the right bet amounts.
Options > Bet Slider Options...
FRESHBONUS
December Full Tilt Referral Code:
Get the
maximum
100% up to
$600
bonus when you use this exclusive referral code when creating your account at Full Tilt Poker. This bonus is available for a
limited
time only.
Create your account at Full Tilt Poker now
Edit tournaments lobby.
The tournaments and Sit and Go lobby screens are packed with the different games on offer. Whilst it is nice to have a variety of games to choose from, it can make it quite difficult to find a specific type of game.
However, by clicking on the edit button on the right hand side of the tabs, you can choose which games and variants are displayed, which makes it a lot easier to find the perfect game.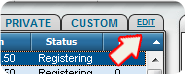 Default/Auto buy-in at cash tables.
If you are a regular cash game player, you probably buy in for the same amount in each game, and you also more than likely try and keep your bankroll topped-up whenever it dips a little after losses. There is actually a feature to allow you to automatically buy in for the same amount in each game and keep your bankroll topped up in the options menu.
Options > Set Buy In Preferences...
Player notes and tagging.
Quite possibly the most useful feature for any aspiring winning poker player - player notes and tagging.
If you right-click on any of the other players at the table, you have the option of writing notes on them and tagging them in a certain color. If you are regularly playing at the same stakes, the chances are that you are going to come up against the same opponents time and time again. By keeping notes on other players, you will quickly be able to see who the good and bad players are and be able to recall what type of player they are.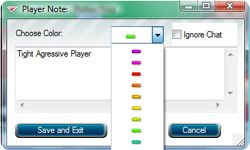 The more you know about your opponents, the more you can win.
Use a referral code.
If you haven't signed up to the room just yet, make sure you use the Full Tilt referral when you are signing up. You will normally get the 100% up to $600 bonus anyway, but this ensures that you don't miss out on it.
Four color cards.
Instead of playing with 2 black suits and 2 red suits, why not make it easier and have each suit become it's own individual color? The diamonds change to blue and the clubs change to green, which makes it a lot easier to distinguish which suit is which in a quick glance at the cards. I can guarantee that this feature will save you from making a few silly makes later on down the line.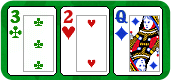 Options > Four Color Cards
Disable exit screen.
Does that small little window in the middle of your screen annoy you every time you close Full Tilt Poker? There is a very simple solution to make it go away.
Options > Disable Exit Screen
I know, why didn't you think of that before? Don't thank me all at once.