Full Tilt vs PokerStars
Compare Poker Stars and Full Tilt Poker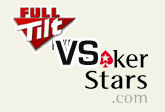 Full Tilt Poker and PokerStars are the two biggest online Poker room, receiving more traffic and attention than any other Poker site.
But how do they compare against one another? Allow me to give you a quick run-down and ratings when comparing Full Tilt vs PokerStars.
In this PokerStars vs Full Tilt article, I will compare the two Poker rooms in the following areas:
Traffic.
Competition.
Software.
Graphics.
Bonus.
Visit Full Tilt Poker >
Visit PokerStars >
Full Tilt vs PokerStars Traffic.
Full Tilt - 9/10
PokerStars - 10/10
PokerStars undoubtedly has more traffic than Full Tilt. However, this is not to say that Full Tilt does not have a large amount too, because there is also a crazy number of players at Full Tilt as well.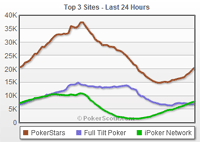 Image courtesy of PokerScout.com
PokerStars managed to pick up more traffic than Full Tilt as they continued to accept US players, whereas other rooms like Party Poker stopped accepting US traffic altogether. Nonetheless, even though PokerStars has more traffic, there is still more than enough at Full Tilt to ensure that you will never sit with the exact same 6 or more players on one table more than once.
PokerStars wins this round convincingly, but it's a bit of a hollow victory.
Full Tilt 0 - 1 PokerStars
Full Tilt vs PokerStars Competition.
Full Tilt - 9/10
PokerStars - 8/10
It's all well and good having lots of traffic, but if the competition is tough then it's not going to be much use. So which of the two rooms has the softest competition?
Full Tilt wins this round, as they do extremely well in attracting the amateur players to the tables through their widespread advertising. This means that there is plenty of soft compeititon for you to take advantage of, and the more bad players you come up against, the more you can expect to be winning.
PokerStars has copious amounts of players, so it's not as if you won't be able to find terrible players at the tables. It's just that from my experience, Full Tilt has a greater ratio of bad players at their tables.
Full Tilt 1 - 1 PokerStars
Full Tilt vs PokerStars Software.
Full Tilt - 9/10
PokerStars - 8/10
Both the Full Tilt and PokerStars Poker clients are beautifully crafted pieces of software. It's hard to pick a favourite out of the two, but I'm going to go ahead and say that Full Tilt just edges PokerStars out on this one.
The gameplay at Full Tilt feels a lot faster and smoother than it does at PokerStars, which helps to engage you in the action. PokerStars is by no means slow, but I believe that the overall gameplay could be improved with a few little tweaks, whereas Full Tilt has it perfect already.
Another bonus point is also awarded for the Mac compatible Full Tilt Poker software.
One more thing that I'm not an overly big fan of at PokerStars is the chip movement audio. I know, it's not the worst thing in the world, but I'm sure that they could be using something a little more realistic in place of the somewhat harsh audio they have there at the moment.
Full Tilt 2 - 1 PokerStars
Full Tilt vs PokerStars Graphics.
Full Tilt - 8.5/10
PokerStars - 9/10
The graphics section of this "PokerStars vs Full Tilt" article is hard to judge, because Full Tilt takes the brighter (and possibly more "fun") approach whereas PokerStars goes for the sleeker and more stylish approach to in-game graphics.
I personally prefer the PokerStars sleek looks just a little bit more than the Full Tilt design. Furthermore, the option of being able to choose from a greater number of table skins gives PokerStars that little extra edge.
Honestly, this is a tough one to call, because Full Tilt has some really great stuff like:
The ability to choose from a unique set of avatars.
Unique table graphics and styling - you won't find fun table graphics like these anywhere else.
Very customizable tables.
PokerStars just edges Full Tilt out, but it's all much of a muchness.
Full Tilt 2 - 2 PokerStars
Full Tilt vs PokerStars Bonus.
Full Tilt - 9/10
PokerStars - 7/10
On the surface, it's clear that Full Tilt offers the more attractive bonus with the greater amount of money on offer. However, it's important to look at the redeem requirements to keep it fair.
Both PokerStars and Full Tilt have some of the easiest requirements for redeeming the bonus, which means that it will not take very long at all to get your hands on the new player bonus money. Therefore, seeing as the requirements are pretty much equal, Full Tilt wins this round with it's far bigger $600 bonus compared with PokerStars' small $50 bonus.
Full Tilt 3 - 2 PokerStars
Conclusion.
Full Tilt Wins!
It's a close match up between Full Tilt vs PokerStars, but Full Tilt comes out on top in my honest opinion.
Even though PokerStars wins in the comparison between traffic and graphics, Full Tilt edges them out by taking the soft competition, software and bonus awards. Furthermore, PokerStars only marginally wins in the graphics department, and the amount of traffic is pretty much obsolete at these levels.
Personally, even though PokerStars is a great room, I much prefer playing at Full Tilt. You can't beat great software mixed with an abundance of soft competition - it's a recipe for big wins.