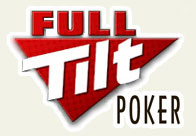 Why Play At Full Tilt Poker?
Top Reasons To Play At The Full Tilt Poker Room.
There are a wealth of genuine reasons as to why you should play at Full Tilt Poker over any other online room. However, instead of turning this article into another review of Full Tilt Poker, I will try and keep it a little shorter and highlight the best aspects of the room for you.
1) Ridiculous amounts of traffic.
Full Tilt is one of the biggest online poker rooms, and it receives a crazy amount of traffic every day. This means that regardless of which game and limit you want to play, you are almost guaranteed to find a good table to sit down at.
Furthermore, the large amount of traffic means that there is a wide variety of players, which means that you won't be stuck with the same tough opponents day after day like you would at other low-traffic poker rooms.
2) The soft competition makes it easy to win money.
A key piece of winning poker strategy is to play against opponents that are weaker than you. You may be the 9th best player in the world, but if you are playing against the top 8 players you are not going to win money. It just makes sense doesn't it?
Full Tilt Poker is notorious for attracting incredibly soft competition, with many people at the room playing for fun and not worrying about losing money. This means that if you have got a decent level of ability at the tables, Full Tilt will prove itself to be a very profitable poker room for you.
3) The Full Tilt software is a great platform to play poker on.
Some poker rooms have tricky software, which can make it tedious and frustrating to play poker at times. Full Tilt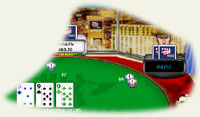 however has a superbly crafted piece of software that always runs smoothly, whatever the weather.
This means that you are never going to miss out on any pots because of dodgy software, as the room has been designed to make it as comfortable and as safe as possible for their players to play poker upon.
It really is a sweet piece of software.
4) Genuinely useful promotions and bonuses.
If you search around for bonus offers, the majority of rooms will offer very attractive deposit bonuses to try and attract players' attention. However, these will often have sneaky and harsh requirements for players to redeem the bonus, which means that the deposit bonus is pretty much useless.
However, the Full Tilt Poker bonus is actually renowned for being one of the most generous in the world of online poker, and it is generally advised that players should make a sizeable deposit so that they can make the most of the one-time 100% up to $600 bonus offer.
In addition to this, the regular build up of Full Tilt points as you play means that you can buy some genuinely useful items such as electronics and clothes from the Full Tilt store even after you redeem the bonus.
5) It's Mac compatible.
If you're having trouble trying to find a room to play at due to the fact that you are using a Mac computer, Full Tilt will happily solve these problems for you.
Full Tilt poker is one of the few online poker rooms that are Mac compatible. In addition to this, the room is unique in that you can actually download special software for Mac computers, which means that you can have your own Full Tilt client for your Mac without having to play on flash versions of the room on the website.
Full Tilt is the ideal room for any Mac user.
6) Because you just should.
Yeah, I know it's not exactly the most well-thought out reason on this page, but I'm going to use it anyway. Full Tilt Poker is one of the most popular poker rooms for a reason, and if you haven't played there yet then you haven't really experienced online poker.
You're going to end up playing at the room at some point, so you may as well download Full Tilt Poker and start playing sooner rather than later. You won't regret your decision to move to Full Tilt after you see how bad the players are. Your bankroll will thank you for it too.