This is an archived page. The information is probably out of date, but I've left it here in case you find it useful for something.
Power Poker Rakeback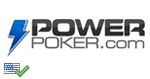 RAKEBACK
+ 110% UP TO $600 BONUS
Power Poker rakeback summary.
Power Poker Rakeback Details

| | |
| --- | --- |
| Rakeback: | |
| Calculation: | |
| Bonus: | 110% up to $600 |
| Bonus Deductions: | - |
| Tournament Fees: | n/a |
| Payments: | |
Room Details

| | |
| --- | --- |
| Network: | Cake |
| Competition: | Tough |
| Mac Friendly: | |
| US Friendly: | |
| PT Compatible: | |
| HEM Compatible: | |
Power Poker is a relatively new room on the Cake network, but it is easily one of the most promising due to it's high popularity amongst rakeback player thanks to it's good customer support. The face of Power Poker is Ilari "Ziigmund" Sahamies, which is nice, but I don't know how much he plays there to be honest.
All in all, Power Poker is a great, reliable skin on the Cake network with great customer support. In fact, the support at Power Poker is better than Cake Poker's in my opinion.
More Power Poker rakeback information.
Rakeback deal.

Power Poker offers a flat rakeback deal to all players. This is the maximum amount of rakeback that you can get on the Cake network.

Power Poker rakeback calculation.

Power Poker uses the dealt rakeback calculation method, which means that the total rake is shared equally between all of the players at the table, regardless of how much each player has put in to the pot (or if they have even entered a pot).

So for example, let's say you are playing in a $400 NL game with 4 other players at the table at Power Poker and the final pot reaches $200. Regardless of the amount of money you had put in to the pot, the $20 rake (5% of the $400 pot) will be shared equally between all 4 players, which means that you will have effectively paid $5 in rake. This will result in $1.65 rakeback (33% of $5) from this one pot alone.

The dealt rakeback calculation is less common than the contributed method and it means that you are able to generate rakeback from pots that you haven't played in.

PowerPoker rakeback payments.

Power Poker rakeback is paid weekly within 48 hours of the start of Wednesday, so you should receive your rakeback payments by midnight on Thursday at the latest.

The Power Poker rakeback week start from 00:00 on Wednesday and ends at 11:59 on the following Tuesday.

Power Poker bonus and rakeback.

Power Poker does not deduct bonus money from any rakeback calculations. This means that you will receive the maximum rakeback amount in addition to the 110% up to $600 new player bonus whilst it clears.

So for example, lets say that you accumulate around 350 FPPs, which should release $20 worth of bonus money. This will result in you having generated about $50 in MGR. Instead of Power Poker deducting this $20 bonus money from your $50 before calculating rakeback, you will receive 33% rakeback on the full $50 ($16.5 rakeback) in addition to the $20 bonus money.
Can I get rakeback at more than one room on the Cake network?
Unfortunately not. So if you've already got rakeback at Cake Poker, you're not going to be able to get it at Power Poker as well I'm afraid. It's a network policy, I don't make up these rules.
However, it is perfectly fine to open an account at Power Poker if you have a non-rakeback account at another skin on this network. So if you've already got an account at Cake Poker but it's not a rakeback one, Power Poker acts as a great alternative for getting rakeback on the Cake network.
Go back to the rakeback poker rooms.