1) Get Your Strategy.
Learn how to win money with expert tips and strategy. The more you learn, the more you win.
2) Get Your Room.
Play at a better poker site with softer players and win more money. Easy game.
Texas Hold'em

Welcome to ThePokerBank.
What will you find here? A relatively large mass of information about Texas Hold'em poker and a few useful tools.
What is ThePokerBank all about?
The general idea of ThePokerBank is to teach you how to play winning no limit Texas Hold'em and to help you find a profitable room to play at. Basically, I want to help you win more money from playing Texas Hold'em online.
To summarize the goals of ThePokerBank as sweetly as possible:
Teach quality Texas Hold'em strategy. The stronger your game is the more you can win.
Give honest reviews of Texas Hold'em rooms. I'm not going lie and tell you that every room is perfect.
Show clear information on poker bonuses and the top rooms for Texas Hold'em.
Reviews, Bonuses and Texas Hold'em strategy.
Good strategy + soft competition * bonuses = lots of money. These are the main foci ("focuses" for lazy spellers) of this site.
Winning money from Texas Hold'em gets a lot easier when you know how. Allow me to try and help.
Tip: If you ever get lost, cut your losses and head to the Texas Hold'em FAQ.
Playing Texas Hold em poker online.
There are loads of great rooms for Texas Holdem, really loads. I've given honest reviews of these rooms in the Texas Hold'em rooms section.
I urge you to evaluate all of the top Texas Hold'em rooms on this site and choose the one that is the most suitable for your needs. Use your own judgment and be happy with the room you decide to play at.
Different players have different tastes and expectations, so play at the room that you like best and don't worry about what others may be pimping as the "bestest room ever".
My top 5.
Different rooms appeal to different types of players. You should check out the reviews and go for the one you think suits you best. Everyone has their favourite chair, everyone has their favourite poker room.
Having said that, I do have incredibly good taste, so here are my favourite 5 rooms for playing Texas Hold'em poker online.
| Rank | Room | Rating | Network | Traffic | Mac | Bonus | Match | Visit |
| --- | --- | --- | --- | --- | --- | --- | --- | --- |
| | Bet365 Poker | A+ | iPoker | High | | $1,000 | 200% | Visit |
| | 888 Poker | A | - | High | | $400 | 100% | Visit |
| | Bovada | A | - | Average | | $1,000 | 100% | Visit |
| | Sky Poker | B | - | Low | | - | - | Visit |
| | PokerStars | B | - | Very High | | $600 | 100% | Visit |
Useful Texas Hold em stuff.
Along with the strategy and room information on this site, there are a few other handy tools that you may find useful.
You could just check out the Texas Hold'em tools page though and go from there.
The guy behind ThePokerBank.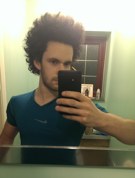 My name is Greg (see right), I'm from the UK and I run ThePokerBank. You can find out more gripping stuff about me on the about me page.
Why should you trust my strategy and advice?
I'm not a full time professional or live tournament player, so don't expect to see me on TV shows or in any poker history books.
Despite that major set back, I am a comfortable winning online Texas Hold'em cash game player up to $200NL, which is good enough for me. I've also played at more online poker rooms than most people would consider to be healthy.
All the information on this site is free, it's up to you to decide how much you use. I'll remain playing online poker in my boxers and socks at 3am, eating toast and winning money from terrible players to supplement my rigorous beer-purchasing regime on the weekends.