Full Tilt eChecks
Instant eChecks Deposit Method At Full Tilt Poker
Instant eChecks are one of the most popular Full Tilt deposit methods for US players. The very quick deposit time and ease of use easily make depositing from the US at Full Tilt Poker via the eCheck method the best option by far.
Can you use eChecks at Full Tilt?
Yes.
Full Tilt is one of the only two major poker rooms (including PokerStars) that offers the instant eCheck deposit option to US players.
Sign Up For An Account At Full Tilt Now
Do most players deposit at Full Tilt using eChecks?
Yes. In my opinion the Full Tilt eCheck is the best method for funding your online poker account at Full Tilt. It's so easy and safe that it has become the most popular deposit option for US players.
Full Tilt eChecks deposit guide.
Depositing with an eCheck at Full Tilt is amazingly simple (and safe). Just follow these steps...
Sign up to Full Tilt Poker (Don't forget to to use the

FRESHBONUS

referral code for the top bonus.)
Go to the cashier in the lobby.
Click on the big "Make a Deposit" button.
Choose the Full Tilt Instant eChecks deposit option.
Fill in a few simple details and you're done.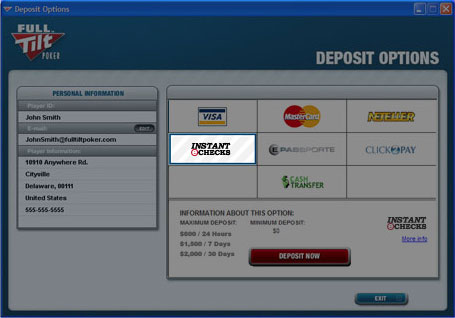 Filling in the details on the Full Tilt eCheck.
The first time you deposit with a Full Tilt eCheck you might find that you are not overly familiar with a few of the details that they are asking for. But trust me, you definitely have this information at hand somewhere. Here's what they are looking for exactly and where you can find it: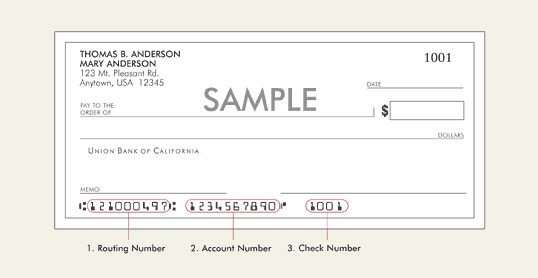 Routing number

- This is the 9 digit number that can be found in the bottom-left hand corner on one of your checks.

Account number

- Your standard bank account number. This can also be found on one of your checks, or pretty much any statement that you have had from the bank.

Account type

- Either "checking" or "savings". The most common one is a checking account.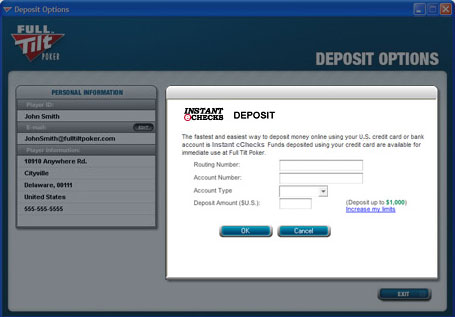 Full Tilt eCheck deposit information.
The minimum deposit for using an eCheck at Full Tilt is $50, which is the standard minimum deposit limit at Full Tilt anyway. There is no charge for using this deposit method, although there is a small possibility that the bank will charge a very small processing fee (but this is rare).
As you can guess, instant eChecks will fund your account instantly, which is why they have become so popular. PokerStars was the first room to offer this deposit option successfully in August 2008, and Full Tilt started offering this same option shortly after.
Full Tilt eChecks are very safe and reliable. Pretty much the perfect deposit option for US players at this time.
Sign Up For An Account At Full Tilt Now
Other online poker rooms offering eChecks.
PokerStars is the only other room offering instant eChecks as a deposit option. However, from my experience Full Tilt is currently doing a better job of processing eChecks at the moment. Basically, Full Tilt processes them faster than PokerStars.
For a comparison of these two rooms overall, have a look at the Full Tilt vs PokerStars article.