This is an archived page. The information is probably out of date, but I've left it here in case you find it useful for something.
DailyVariance.com Discount Code

Discount Code:
POKERBANK10
Discount:
10% Off All Orders
Working discount code for:
-
DailyVariance discount code:
POKERBANK10

Use the discount code POKERBANK10 when you get to the checkout to receive your 10% discount.
After entering the code and clicking "continue" you will be taken to a new page to review your order. If the code worked, you will see the 10% discount applied to your order total.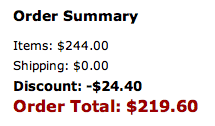 Can this code be used more than once?
Yes. You can use this code every time you order a book, video or anything from the Daily Variance website.
The code doesn't have an expiry date, but if it does expire I will update this page.
Can it be used on multiple orders?
Yes again. This offer doesn't apply to a single item or to specific items. The code saves you 10% off the total amount, including shipping fees if applicable.