About Me
This is the page where you get to read a little more about me and subsequently find out that the guy behind such a sophisticated Texas Hold'em website is actually really cool. The same guy is also quite likely to turn out to be someone that you would want to hang around with in real life too.
I'll try not to disappoint you.
About me.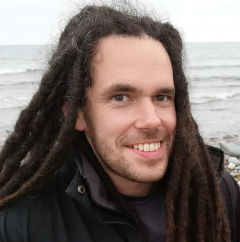 My name is Greg.
I live in the UK (Wales to be precise).
I am 35 years old. That number has been dynamically generated using my actual birth-date, so you know it's still accurate.
I have a personal Twitter account. I don't tweet about much poker stuff on this account though. It's mostly cool programming stuff.
You can email me at

greg [at] thepokerbank.com

. But for quick messages you're better off tweeting me. Twitter is just quicker, easier and funner.
I enjoy going to the gym and drinking. Both of these hobbies clearly cancel each other out, which helps to keep my general health perfectly static with little to no progression/regression one way or the other.
I brought an early end to my time spent studying Physics in Uni in 2008 (that's my euphemism for "dropping out") to play poker and make the world of poker a better place through the articles and whatnot on this site.
In between daytime TV and hangovers I work on making ThePokerBank a better site to visit whilst enjoying the benefits of playing poker semi-naked throughout the day.
I think that just about covers most of the interesting stuff in my life.
My Poker background.
I started playing poker during college with friends. I don't think I could have chosen a more clichéd start to my poker career if I tried.
I was 17 at the time, so I occasionally dabbled in online poker for play money, which is where I would continue to develop my strategy of playing every suited hand or any two cards as long as one of them was a face card. Any hand with an Ace was also formidable.
I made my first deposit of $50 at Party Poker as soon as I turned 18 and exercised my best bankroll management skills by playing at the $25NL stakes. Wasn't too long before I lost that $50 and about 3 or 4 more thereafter, at which point I started to realise that I wasn't quite going to dominate the world of online poker as I expected.
I then began to read an obscene amount of strategy articles and watch copious amounts of poker on TV. Mixing this with the relentless determination to stop losing money, good bankroll management and the perilous disregard for my education at that time meant that my Texas Hold'em cash game strategy slowly progressed in to a winning one.
It took ~3 months to become a marginal winning online player. From then on it was just about putting in the hours and looking after my bankroll. I now regularly beat the $100NL games (I like to think $200NL too) and can tell you more about online poker rooms than is really worth knowing.
Hard work and perseverance always pays off; it's just always easier said than done.
Nowadays I mostly play at SwC Poker, playing any kind of fun 6max or HU cash games. Cash games are the best. I play here because I like Bitcoin and I like the goal of the room.
Personal articles.
About ThePokerBank.
The first ThePokerBank site got underway in January 2007. I had a lot of free time on my hands over the Christmas holidays and had a burning desire to share what little strategy and poker room information I had with other people on the Internet. ThePokerBank was/is a hobby site.
Since then I have learnt a lot more about solid poker strategy (mainly Texas Hold'em cash game strategy) and how to construct a good website. What you see now is a culmination of everything I have learnt about playing winning poker and designing websites, so I hope you're at least moderately impressed.
I have a page highlighting the changes made for the new design from like 2009 for anyone that might be interested.
What makes the information on ThePokerBank reliable?
I have been playing online poker extensively for over 5 years, so I know a lot about good Texas Hold'em rooms.
I am a regular winning player up to $400NL, which is good for writing Texas Hold'em strategy.
I completed the first year of a Physics degree, so I can't be that stupid. This is handy for calculating rewards from poker bonuses.
I've generally just spent far too much time in front of a computer playing online poker.
The main focus of ThePokerBank is to help anyone interested in playing Texas Hold'em online to learn how to win money on a regular basis. I'll try my best to keep this in mind as I continue to develop and improve the site.
Any questions about the site, just go ahead and contact me. I honestly don't get that many emails from visitors, so I really enjoy getting feedback every now and then. Hate mail is also always a good laugh.
Best of luck at the tables and all that. Let me know how it goes.