Best Poker Books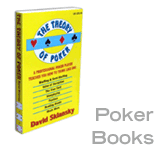 There are two types of poker book; the ones you read once and the ones that you read again and again throughout your poker career. I strongly believe that the books below are the latter.
Below is a list of what I believe to be best strategy books in each category from general strategy, no limit cash game strategy, tournament strategy and ebooks.
Texas Hold'em strategy books.
General strategy.
Cash game strategy.
Tournament strategy (MTTs and SnGs).
For a big list of very useful and informative reviews on the majority of these books, check out the LV Revealed gambling book reviews. The user reviews on the Amazon site itself also do a very honest job of helping you find the better books.
If books are not really your thing, there is a handful of genuinely useful poker DVDs out there to buy.
Strategy ebooks.
There are a load of really bad Texas Hold'em strategy ebooks out there, so be careful. Anybody can write an "ebook", claim it is the best strategy in the world and then sell it to the unsuspecting visitor. When it comes to poker ebooks, you are far better off going on recommendations as opposed to how good the sales page sounds.
Below are the top ebook-only strategy books for the intermediate/advanced player. These are genuinely valuable ebooks with great strategic advice.
As I say, you should be very skeptical about any ebook with a big long sales page. Anyone can write a book and tell you it's the best strategy ever, but a lot of the time they do not deliver. If you ever have any concerns about the quality of an ebook or normal book, search for online reviews. The 2+2 forums usually give very critical and honest advice, so try searching those.