Texas Hold'em Guide
This is a Texas Hold'em stratgy guide for beginners. The same topics are covered in the main strategy section, but the articles here have been simplified,.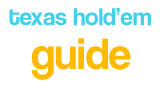 So here it is, a one-stop Texas Hold'em guide for the essentials of winning money from Hold'em. There are thousands of strategy articles and guides out there for you to learn from, but below is a selection of the most important Texas Hold'em strategy articles for you to get your teeth into.
If you can grasp a solid understanding of the strategy provided below, you will have a better understanding of the game than 90% of poker players. If you are better than 90% of poker players, you will be able to win money from Texas Hold'em. Easy.
Texas Hold'em articles guide.
Playing A Hand
Poker Mathematics
Basic Strategy
Further Strategy
Fresh Texas Hold'em.
This Texas Hold'em guide used to be on the old FreshTexasHold'em.com site, which was a smaller site I made that focused on training beginner players with a unique/awesome writing style. All that has happened is that I have picked up all of the strategy articles from that site and placed them on here.

So if you were wondering what the hell happened to FreshTexasHold'em, now you know. It's just got a new home.
Who is this Texas Hold'em guide useful for?
I'm confident that all amateur players will be well on their way to winning money from Texas Hold'em after thoroughly reading through this section. I'm not going to brag, but the articles above strike the perfect balance between entertainment and education.
All new players will benefit from this Texas Hold'em guide. Fact.
You can find similar articles in the main strategy area of this site, but they have a more formal writing style. Furthermore, the articles have not been laid out in so much of a step-by-step or guide-like fashion, so you know where to start and where you are going to up in this Texas Hold'em guide.
Where do I go from here?
If you've absorbed all of the information from this guide and you are looking for more specific and/or advanced strategy, I'd highly recommend you head to the Texas Hold'em strategy section. There are more specific articles there for you to choose from, which should help you to refine the finer aspects of your game.
I will also strongly recommend that you look to invest in some tracking software from the poker software page. As a developing player, this software will prove to be invaluable to you later on down the line. It will help you to fix any leaks in your game and help you to track your progress.