Top Poker DVDs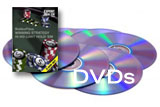 Although a lot of people prefer to watch videos these days as opposed to reading books, there is still far fewer poker strategy DVDs when compared to the number of strategy books out there for you to buy.
Nonetheless, there is still a handful of decent ones flying around, so allow me weed out the useful poker DVDs from the abysmal ones for you.
The best poker DVD.

The best poker DVD is BobboFitos winning strategy in no limit Hold'em ($59.95).
Robert 'BobboFitos' Eckstut is a relatively well-known name in the world of online poker. BobboFitos is a very successful online Texas Hold'em player and used to make very good poker training videos at LeggoPoker.com.
As you might guess, the DVD covers a multitude of intermediate level concepts and strategies for NL Texas Hold'em cash games. Although it will still be very helpful to you even if you are mainly a tournament player.
Most poker DVDs cover very basic stuff and do not really bring anything intuitive to the table. BobboFitos's DVD on the other hand highlights some very unique concepts that you will are very unlikely to have come across elsewhere, which is why this particular DVD sits head and shoulders above all the other more basic poker DVDs.
Here's a BobboFitos DVD review thread from 2+2 if you want to get a few more opinions from other players. In my opinion there is quite a big jump in quality of information from this DVD to that of other strategy DVDs currently on the market.
Other decent poker DVDs.
The following DVDs are still very good, but there isn't quite as much cutting edge stuff in them that is going to turn your poker game upside down.
Despite having a slightly annoying Danish accent, Rolf does a very good job of explaining some basic/intermediate strategy for NL Texas Hold'em players. One half of the DVD is no limit focused, whereas the other half is limit stuff, so it's not a pure NL strategy DVD.

Nick "Stoxtrader" Grudzien is another accomplished no limit and limit Texas Hold'em player that used to run a popular training site called StoxPoker (no longer active). Situations are well explained and the DVD covers both no limit and limit strategy.

Nick Wealthall is a great teacher of no limit Texas Hold'em tournaments. He is also an enjoyable guy to learn from and was my favorite presenter on the PokerNightLive show that used to be shown in the UK back in the day.

The cheapest decent DVD out there, but then also the most basic. Nonetheless, Phil Gordon does a good job of explaining basic strategy for tournament poker, although a lot of the stuff that gets talked about can also be used in cash games.

This is a nice DVD is dedicated to 6 max no limit Texas Hold'em cash games, but I'm not overly familiar with the Krantz name. Some very good commentary on reading hands though.
Books vs. Poker DVDs.
Since there are far fewer DVDs out there than books, I'd recommend any player looking to improve their game to pick up a quality poker book over a DVD. Sure, some books are better than others just as some DVDs are better than others, but right now the best books have more to offer than the best DVDs.
Poker books have the edge over Poker DVDs in terms of both quality and quantity.
There is nothing wrong with picking up some of the better DVDs (like the ones on this page) and learning strategy that way. In fact, you will probably pick up a hell of a lot of good concepts that you can take to the table.
However, at this moment in time, poker books remain as a staple part of any aspiring winning poker player's diet. DVDs can be great supplements, but there's no replacement for a quality poker book, even if you prefer "watching" strategy as opposed to reading it.
Go back to the handy Texas Hold'em tools.