US Friendly Poker Rooms - May 2013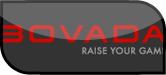 Top US friendly poker room.
Softest competition of any US room. Easy money.
Fast US deposit and withdrawal options.
Cool as hell software.
Big 100% up to $1,000 bonus.
Sign up and play at Bovada - the top US poker room
Out of all of the online poker rooms that accept US players, Bovada is my favourite. You won't find a softer poker room with better software that makes it as easy as Bovada does to sign up and play for real money.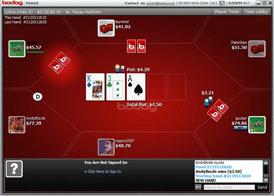 As a US player, Bovada should be your first choice for online poker.

On this page you will find information on the top US friendly poker rooms for playing online Texas Hold'em poker for real money. These are currently the best poker sites that available to Americans as of May 2013.
Not all poker rooms currently accept US players, but thankfully there's still a wide variety to choose from.
The table below highlights the top US poker rooms along with network, compatibility and bonus information.
Top US friendly poker rooms.
| Rank | Room | Rating | Network | Traffic | Mac | Bonus | Match | Visit |
| --- | --- | --- | --- | --- | --- | --- | --- | --- |
| | Bovada | 90% | - | Low | | $1,000 | 100% | Visit |
| | Aced Poker | 89% | Merge | Average | | $750 | 150% | Visit |
| | Lock Poker | 74% | Revolution | Average | | $750 | 100% | Visit |
| | Bookmaker | 68% | Yatahay | Awful | | $500 | 100% | Visit |
Is it legal to play online poker in the US?
I'm not an expert in the field of law, so I wouldn't want you to completely trust everything I say on this topic. However, I've been involved with online poker for years, so I'm just going to cover what I know about playing poker on the the Internet in the USA.
Aside from a few states (see below), it appears to be perfectly legal to play online poker for real money in the US. Thousands of American players play online poker for real money every week. No players have ever been arrested.
If online poker is was illegal, the online poker rooms would not be accepting US players. US-facing rooms are vigilant about staying on top of the law. So unless the poker rooms prevents you from creating an account, you are good to go.
It is safe to play online poker in most US states, which is why we have these US friendly poker rooms. If you would like further reassurance from a legal expert in this area, read this article by I. Nelson Rose.
Here's a reassuring quote for you:
You are not going to go to jail for merely playing poker online. It is not a federal crime to make a bet. Half the states do have ancient laws on the books making it a crime, sometimes, to make a bet. But these are never enforced. I have been unable to find anyone who has been charged, let alone convicted, for playing Internet poker. – I. Nelson Rose (Is it safe to play poker online?)
The UIGEA.
The UIGEA was passed in September 2006. It stands for the Unlawful Internet Gambling Enforcement Act, and it was attached to the SAFE Port Act. Official details can be found between 31 USC § 5361 and 31 USC § 5367.
Contrary to what some people believe, this did not make online poker illegal. It simply made it a little more difficult to process transactions to and from online poker rooms and online casinos. It does not make the act of playing poker online for real money illegal, so it's not aimed at you.
(I don't write much about casino stuff here, so if you're looking for a casino to play at you should check out my friend's casino bonus site.)
Black Friday.
On Friday 15th April 2011, the FBI seized the domains of the top 4 US-facing online poker rooms. This is known in the industry as Black Friday. The 4 main affected sites were:
These poker rooms were indicted for apparent bank fraud offenses, although it definitely appeared to just be an attempt to reduce the number of online poker sites that could cater to US citizens.
This did nothing to change the legality of online poker -- it simply resulted in these poker rooms no longer accepting or offering real money play to US poker players. This was the biggest change in online poker for US players since the UIGEA came in to effect in September 2006.
US online poker law by state.
Each state has their own laws when it comes to gambling online. Here's a quick overview on playing online poker in the US by state.
States that have big problems with online poker.
These states have explicitly stated that online poker is a felony. Some online poker rooms that accept US players have restricted access to players in these states.
States that have issues with online poker.
Illinois
Indiana
Kentucky
Louisiana
Michigan
Missouri
Nevada
New Jersey
New York
Oregon
South Dakota
Utah
Wisconsin
These states have issues with online poker and online gambling, but it's a bit of a grey area. It may be the case that there are some sort of laws in place, but they are not heavily enforced. I'm sure that there are many people in these states playing online poker on a regular basis, but there must be some element of risk.
As you may have spotted, I'm not a lawyer, so it's definitely in your best interest to do a bit of research for these particular states. This state gambling law summary at Gambling-Laws-US.com has a lot of helpful information, so check that out.
States that seem okay.
As far as I'm aware, the states in white do not seem to have any problems or issues with online poker. You'd obviously want to do a bit of checking around first to be sure, but unless you find anything blindingly obvious on the Internet you're probably fine.
Why aren't all poker rooms US friendly?
In a nutshell, it is easier for some rooms to operate by not accepting any US players at all.
The UIGEA has made transactions a little trickier, and so some rooms prefer to stick with non-US players. Some rooms may be too small to be able to deal with the intricacies of handling US-friendly banking, whereas others have just decided to focus their attention in other markets.
Maybe in a few months or years when
Best US poker deposit methods.
Although deposit and withdrawal options are slightly limited for US players, it is still easy to add funds and withdraw money from your online poker account. Some of the more popular deposit options for US players include:
Check
Credit Cards - The success rate of this method varies greatly from room to room. It's hit and miss, but worth a shot.
Different poker rooms will have different deposit and withdrawal methods on offer for you, so don't expect to find the exact same methods everywhere. The poker room will let you know your options in the cashier, so your best bet is to just sign up and see what they've got.
Other useful links.
As I say, I'm not a lawyer (not yet anyway), so I don't have all the answers. Here are a few helpful pages with more in-depth information:
Go back to the Texas Hold'em rooms.