Betfair Poker Review
This is an old review.

Betfair Poker is still running, but it's no longer a part of my list of recommended poker rooms. This page hasn't been updated in a while, so take what you read with a pinch of historical salt.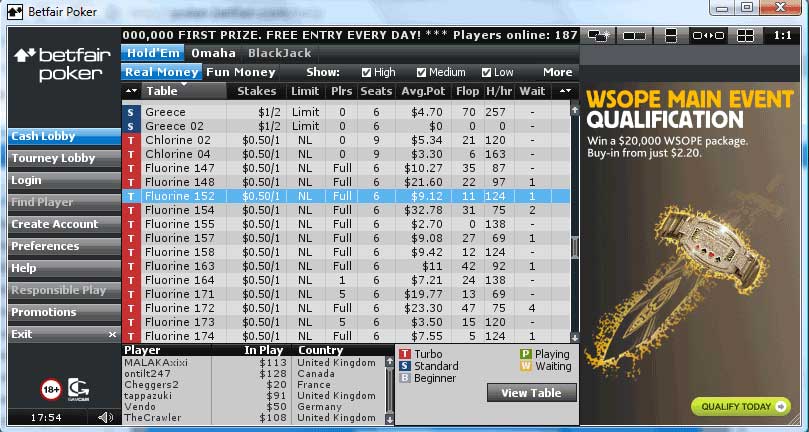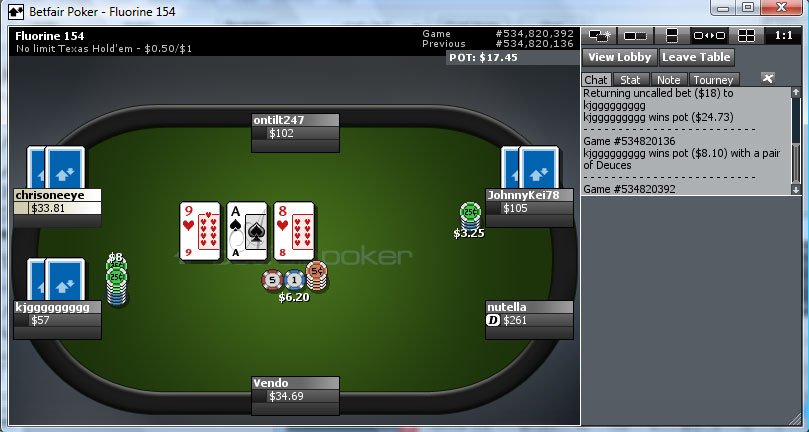 200% up to $2,000 Bonus
Betfair joins the Ongame network. Betfair is now no longer a stand-alone poker room, as it has joined the OnGame network. This article will be updated shortly.
Betfair Poker overview.
Betfair is a small poker room that uses a unique poker client that you won't find anywhere else (because it's on an independent network). Betfair is let down by a small volume of traffic and tricky software.
Small volume of traffic. Enough players to multi-table up to $200NL though.
Less than impressive software that is overly tricky to use.
Betfair has done very well as an independent poker room. However, at the end of the day it does have lower than average player traffic (on par with Aced), which makes it a bad choice for anyone looking to play at $500NL or higher. You will also be unimpressed by the frustrating poker client I'm afraid.
On a positive note, the 30% - 40% is very handy and Betfair is easily one of the most reputable companies you will ever come across. All in all though, there are better options out there for you to choose from.
Betfair competition and traffic.
Low volume of players. Not impossibly low though.
Level of competition is average.
Betfair has a similar volume of traffic as Aced and other rooms on the Merge network. Although placing quite low in traffic rankings and having much less traffic than major rooms, it's still possible to multi-table up to the $200NL stakes. However, go above that and you're going to have trouble finding enough tables to play at.
Betfair is easily beatable across all of the limits as long as you have a solid strategy.
Visit the Betfair Poker website
Betfair Poker software.
Tables are fast loading and run smoothly.
Very difficult to get multiple tables going.
Can be buggy at times and doesn't offer anything new.
The Betfair software is very basic and does not offer a wealth of in-game features or customization options. However, this does mean that the tables are fast to load and run pretty smoothly. But unfortunately that's just about the only good thing with the software.
The major problem with the Betfair Poker client is that it makes it difficult to play at multiple tables. I have never had so much of a problem opening up more than one table to play at than I had at Betfair. You have tables opening up in the lobby window and the table organization buttons just seem to make things worse.
Overall, the software is not very user-friendly and can be buggy at times. Definitely a lot of room for improvement.
Betfair Poker bonus.
200% up to $2,000 Bonus
Use the promotion code PBANKS when signing up for an account at Betfair to get the 100% up to $1,500 bonus.

The downsides to the Betfair bonus is that it is not overly easy to clear. There are far more profitable rooms to play at during the bonus period as shown in the poker bonuses section.
BetfairPoker bonus details.
General Bonus Details

| | |
| --- | --- |
| Bonus: | $2,000 |
| Match: | 200% |
| Time: | 90 days |
| Increments: | $5 |
| Bonus Code: | WELCOME2500 |
Redeeming Bonus Details

| | |
| --- | --- |
| Status Points earned per $1 rake paid: | 20 |
| Status Points needed per $1 of bonus: | 67 |
| Total Status Points needed to redeem bonus: | 134,000 |
| Total rake paid to redeem bonus: | $6,700 |
| Bonusback: | 29.85% |
A decent bonus overall, but not the easiest to redeem.
Go back to the Texas Hold'em rooms.