This is an archived page. The information is probably out of date, but I've left it here in case you find it useful for something.
NoiQ Poker Rakeback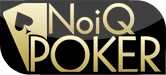 RAKEBACK
+ 100% UP TO €500 BONUS
NoiQ Poker rakeback summary.
NoiQ Poker Rakeback Details

| | |
| --- | --- |
| Rakeback: | |
| Calculation: | |
| Bonus: | 100% up to €500 |
| Bonus Deductions: | - |
| Tournament Fees: | n/a |
| Payments: | |
Room Details

| | |
| --- | --- |
| Network: | n/a |
| Competition: | Average |
| Mac Friendly: | |
| US Friendly: | |
| PT Compatible: | |
| HEM Compatible: | |
NoiQ offers a standard rakeback deal of , which is about average for a rakeback poker room. However, there is one compelling reason why you might want to choose NoiQ Poker as your main rakeback room.
NoiQ is compatible with both Poker Tracker and HoldemManager.
The majority of other popular rakeback rooms like Cake and Aced are not PT/HEM compatible. So if you already have an account at Full Tilt, your next best option for a rakeback room that is compatible with these programs is NoiQ.
More NoiQ rakeback information.
Rakeback deal.

The NoiQ Poker rakeback deal is . This is the maximum possible rakeback amount that you can get from NoiQ Poker (and at any room on the Entraction network for that matter).

NoiQ rakeback calculation.

NoiQ Poker uses the contributed rakeback calculation method. Therefore, your rakeback is calculated from the money that you put in to the pot only.

To give you a quick example, let's say that you played a €50 pot at NoiQ and you had put €20 in to that pot. Roughly €1 (5%) will be taken from that €20 as rake. As a result, you would receive 30% of that €1 as rakeback, which would be €0.30.

In general, the more active players will receive more rakeback through the contributed method than they would through the alternative "dealt" method (which is the way rakeback is calculated at Cake Poker).

NoiQ Poker rakeback payments.

NoiQ Poker rakeback payments are made weekly. Rakeback is paid every Friday for the previous week's play.

Weekly rakeback payments are currently the most popular amongst rakeback poker rooms when it comes to payments frequency. One notable exception to this however is Aced Poker rakeback, which pays rakeback daily.

NoiQ bonus and rakeback.

NoiQ Poker will not deduct any bonus money earnings from rakeback calculations. Therefore, you will receive the full rakeback from NoiQ Poker throughout the bonus period.
Can I get rakeback at NoiQ if I already have an account?
I'm afraid not. But all is not lost, as there are still a number of quality rakeback poker rooms out there for you to choose from.
Please contact me to see if I can help you find another rakeback deal just as good as this one if you already have a NoiQ Poker account.
Go back to the rakeback poker rooms.