Poker Heaven Review
This is an old review.

Poker Heaven is no longer running. I've left this page here for nostalgia. Check out my current list of recommended poker rooms instead.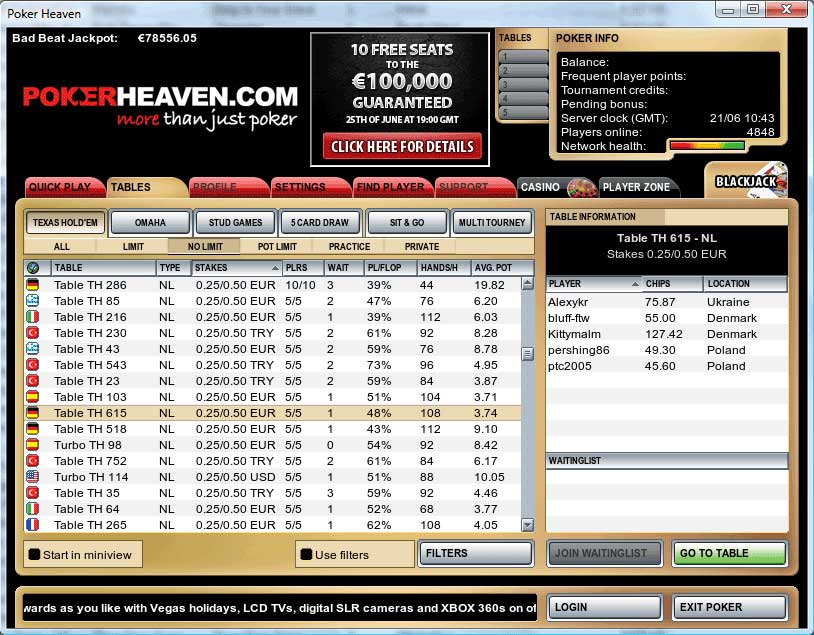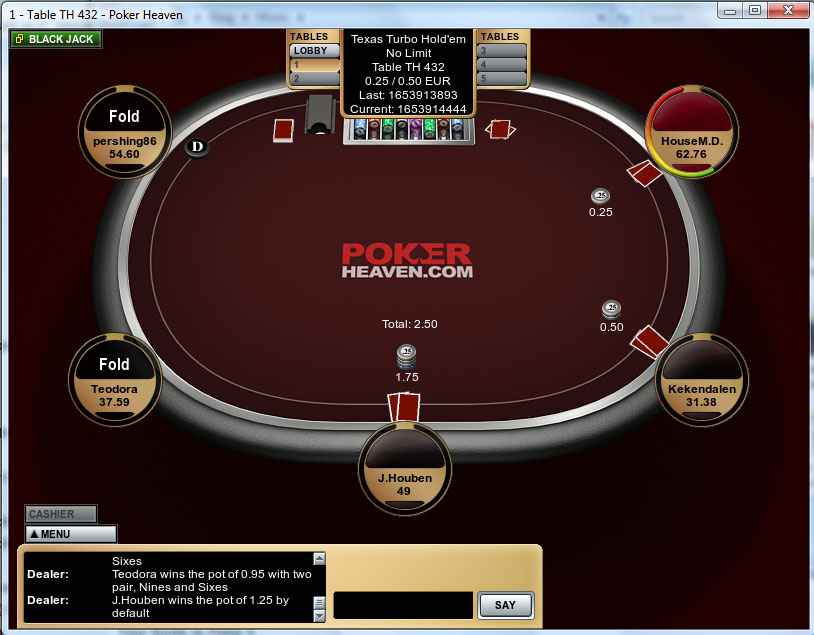 200% up to €1,000 Bonus
Poker Heaven overview.
Poker Heaven is a half decent room with better than average player traffic but less than impressive software. The main reason you would play at Poker Heaven is because of its 30% rakeback deal.
Good 30% rakeback deal.
A pretty average room overall. Doesn't excel in any one area.
Software is cumbersome and bonus is difficult to clear.
Other than signing up to Poker Heaven for rakeback, I can't think of any other really compelling reasons why you would want to play there. The software isn't great and the player traffic is average at best. Rooms like PokerStars are far superior, and if you're after rakeback I would choose Full Tilt or Aced before Poker Heaven.
The option of playing in Euros or Pounds in addition to US Dollars will be attractive to some, but the mixture of different currencies is more of an annoyance when choosing a table in the lobby in my opinion.
Poker Heaven isn't horrific, it's just that there are far better options out there.
Poker Heaven competition and traffic.
Decent volume of traffic.
Level of competition across many of the Texas Hold'em games is standard.
Poker Heaven is on the Boss Media network, which places it at #8 in terms of player traffic out of all the online poker rooms and at #3 for a poker network (behind iPoker and Microgaming). There is enough traffic to keep the tables active up to the $200NL stakes (or around that based on the currency).
My experience on the Boss Media network has neither been that great or too bad when it comes to the level of competition. There are a handful of poor european players jumping in and out of the network, but you have to be aware that there will also be a few rakeback grinders hanging around.
Table selection will really help you to get the most from your sessions, as opposed to blindly playing at any old table at Poker Heaven. In general though, it's not an easy-money room.
Visit the Poker Heaven website
Poker Heaven software.
Easily resizeable windows.
Basic table and lobby design.
Software is unwieldy and can be tricky to get to grips with.
Mixture of table currencies makes it difficult to find the right table.
The Poker Heaven software isn't easy to get to grips with. There are no huge problems with the software, but you can tell that the software at other rooms like PokerStars and Full Tilt is far more superior just by playing at both. The poker client is cumbersome and feels like it is due for a big update.
The table design is basic with standard features on offer, but it does allow for resizeable windows to help you tile the tables when multi-tabling. The lobby is also similarly basic, but is let down by the mixture of table currencies without the option of filtering out the ones you do not want to play at.
Overall, the Poker Heaven software is workable, but it's not going to be a pleasure to use.
Poker Heaven bonus.
200% up to €1,000 Bonus
All new players to the Poker Heaven room are able to receive a 200% up to €1,000 bonus when using the bonus code HEAVEN when making their first deposit.
If you do not enter a bonus code, you will not get a new player bonus. However, as long as you follow the links to PokerHeaven from this site you will still get rakeback.

Bonus money is not deducted from rakeback calculations, but the bonus money itself is incredibly hard to clear. Therefore, all in all Poker Heaven is a moderately profitable room to play at when you combine the bonus with rakeback, but it's nothing overly impressive.
PokerHeaven bonus details.
General Bonus Details

| | |
| --- | --- |
| Bonus: | €1,000 |
| Match: | 200% |
| Time: | 30 days |
| Increments: | €5 |
| Bonus Code: | HEAVEN |
Redeeming Bonus Details

| | |
| --- | --- |
| FPPs earned per €1 rake paid: | 4 |
| FPPs needed per €1 of bonus: | 30 |
| Total FPPs needed to redeem bonus: | 30,000 |
| Total rake paid to redeem bonus: | €7,500 |
| Bonusback: | 13.33% |
The Poker Heaven bonus on it's own is pretty bad. The 200% up to €1,000 sounds attractive, but the bonus money is redeemed at a very slow rate. Luckily, bonus money isn't deducted from rakeback calculations, so as long as you get rakeback with the bonus it's not quite as bad.
Have a look at the poker bonuses section to see how the bonus period + rakeback compares to that of other popular rooms.
Go back to the Texas Hold'em rooms.