PokerStars Review
This is an old review.

PokerStars is still running, but it's no longer a part of my list of recommended poker rooms. This page hasn't been updated in a while, so take what you read with a pinch of historical salt.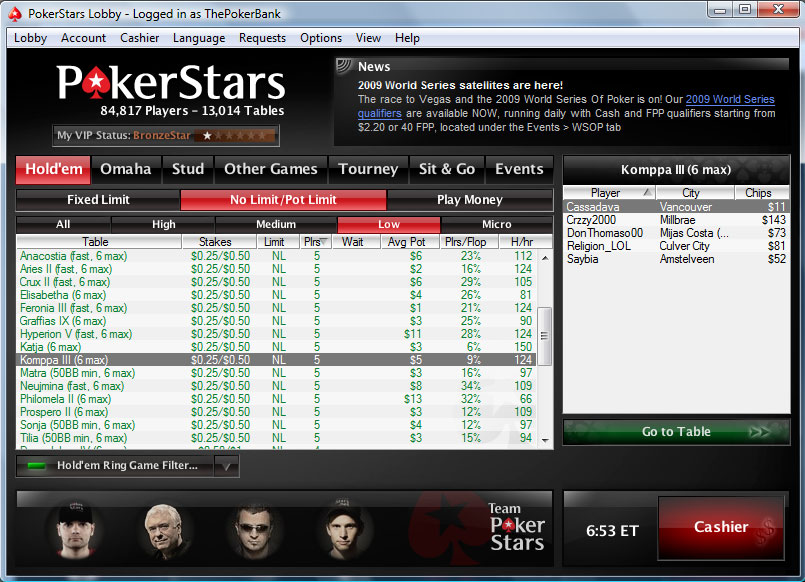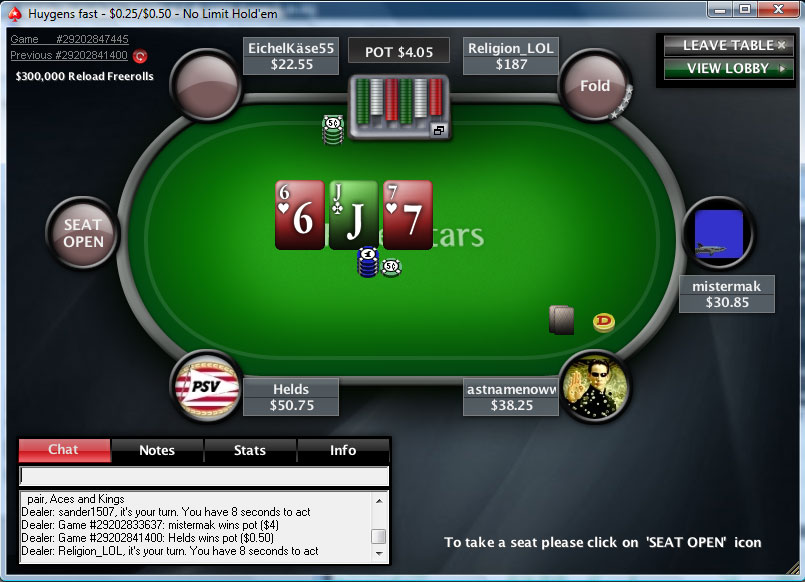 100% up to $600 Bonus
PokerStars overview.
PokerStars is the most popular online poker room. It is easily my first recommendation for anyone looking for the best all-round room with top-notch software and the most player traffic.
Best overall online poker room with exceptional software.
Most popular online room. Comfortably #1 for traffic.
Friendly $600 bonus.
Tough competition.
PokerStars is a highly refined poker room that works hard to ensure that the software, support and everything else about the room is the best in its field. PokerStars isn't the #1 poker room on the Internet without good reason, which is why I happily Stars to anyone looking for a reliable place to play poker for the long-run.
The negative aspect of Stars however is the tough competition. So if you're interested in winning money, PokerStars isn't an attractive option unfortunately.
PokerStars competition and traffic.
Top room for traffic. You won't find a room with more players.
High ratio of good to bad players. Difficult to win money, even as an experienced player.
You can't argue with having more players than any other room, so I'll just leave it at that. If you can't find enough players at the right stakes at PokerStars, you are not going to have better luck anywhere else.
However, amongst all this traffic is a surprisingly high concentration of experienced players.
I think that a lot of people assume that if a poker room has lots of players, it also has lots of fish to take advantage of. Whilst that's true, it means that many winning players flock to PokerStars to try and take advantage of any new players they can find.
As a result, you're now more likely to bump in to a good player ready to take your money, than a bad player ready to give you their's. I'm sure if you try hard enough you can sit at some of the softer tables, but it's much easier (not to mention less tiresome) to play at a softer room in general (like Party or Bodog for example).
PokerStars software.
Incredibly well designed and constructed software. Client is of the highest quality.
Plenty of in-game features. Great for multi-tablers too.
Downloadable app for Mac players.
Not a big fan of the table audio.
I'm going to feel very "salesy" as I write this section, but I don't care. I've played at almost every poker room out there, but I have never played at one that runs as smoothly and works as well as the PokerStars client.
Loads of features, lots of mods and customizations, impressively fast and never any problems. Honestly, you're better off just downloading PokerStars and trying it out for yourself (they've also got a .dmg poker client download for Mac users). I don't have the time or a good enough thesaurus to highlight and describe all the great aspects of the room. I'd likely do it an injustice as well.
The only minor thing I do not like about the PokerStars room is the table audio. I doubt most people will even notice or care, but it sounds a little clunky and it's just not quite as sleek as the rest of the room in my overly-critical opinion.
PokerStars bonus.
100% up to $600 Bonus
The 100% up to $600 bonus at PokerStars is available to all new players to the room using the bonus code STARS600 on their first deposit. You can enter a PokerStars marketing code when signing up, but it will make no difference as to whether you receive the bonus or not. Entering STARS600 when making a deposit is the important part.
Be wary of entering an alternate code when signing up, as they may not entitle you to the maximum possible bonus. I can assure that the bonus codes and marketing codes listed on this site are top notch (of course).
The PokerStars bonus clears at a pretty good rate (20 VPPs per $1 bonus). After you have cleared the full bonus amount, it will effectively work out as receiving 27.5% of the rake you have paid back to your account (see the poker bonuses section).
Poker Stars bonus details.
General Bonus Details

| | |
| --- | --- |
| Bonus: | $600 |
| Match: | 100% |
| Time: | 120 days |
| Increments: | $10 |
| Marketing Code: | THEPOKERBANK.COM |
Redeeming Bonus Details

| | |
| --- | --- |
| VPPs earned per $1 rake paid: | 5.5 |
| VPPs needed per $1 of bonus: | 20 |
| Total VPPs needed to redeem bonus: | 12,000 |
| Total rake paid to redeem bonus: | $2,182 |
| Bonusback: | 27.5% |
You earn 5.5 VPPs for every $1 paid in rake at PokerStars. To get the full $600 bonus and collect 12,000 VPPs, you will have paid around $2,182 in rake. Therefore the bonus works out to give you 27.5% of your rake back, which is about the same percentage as standard rakeback deals.
Of course, the PokerStars bonus period will not last forever, but it does act as a very good substitute for rakeback in the meantime.
Useful PokerStars pages.
Go back to the Texas Hold'em rooms.