Full Tilt Poker Rakeback
Expired Deal: This 27% rakeback deal is no longer available. You can follow the links and enter the code if you like, but it will not give you rakeback. I'm just leaving this page up for reference.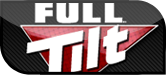 RAKEBACK
+ 100% UP TO $600 BONUS
Step 0: Delete cookies.

This step is to make sure that you will get tracked as a rakeback player when you sign up to Full Tilt. It is not essential, but it does help to prevent any possible problems with tracking.
Step 1: Visit Full Tilt Poker.
Sign up for rakeback at Full Tilt Poker
Visit Full Tilt Poker using the link above. This is a unique Full Tilt rakeback link that ensure that you are tracked as a rakeback player at Full Tilt.
When you get to the Full Tilt website, simply download the software and install it on to your computer as you would normally. As long as you follow the Full Tilt rakeback link above, you will be on track to start earning rakeback when you set up your account.
Step 2: Enter the referral code RAKEBANK on sign up.
That's RAKEBANK with an 'N'. Make sure you enter it correctly when creating your account.

When you are signing up, use the Full Tilt Poker rakeback referral code RAKEBANK. This is very important, as it will ensure that you are able to receive rakeback from the FullTilt Poker room right after you have signed up and start playing for real money.
Step 3: Done!
That's all you need to do to get rakeback at Full Tilt. Feel free to contact me if there are any problems or if you just want to confirm that you have signed up correctly.
Full Tilt Poker rakeback summary.
Full Tilt Rakeback Details

| | |
| --- | --- |
| Rakeback: | |
| Calculation: | |
| Bonus: | 100% up to $600 |
| Bonus Deductions: | - |
| Tournament Fees: | n/a |
| Payments: | |
Room Details

| | |
| --- | --- |
| Network: | Independent |
| Competition: | Tricky |
| Mac Friendly: | |
| US Friendly: | |
| PT Compatible: | |
| HEM Compatible: | |
The rakeback deal at FullTilt is easily one of the most sought after due to the fact that Full Tilt is the largest online poker room offering rakeback. In addition to this, Full Tilt supports tracking programs such as Poker Tracker and Holdem Manager, which makes Full Tilt the perfect choice for regular online players.
More Full Tilt rakeback information.
Rakeback deal.

Full Tilt offers a flat rakeback deal of . This is the maximum rakeback percentage available at Full Tilt.

Full Tilt rakeback calculation.

Full Tilt uses the contributed rakeback calculation method, which means that rake is taken from money that you put in to the pot.

To give an example, let's say that there is a $100 final pot and you have put $40 of your own money in to that pot. 5% rake will be taken from this $40, which leaves $2 rake that you have personally paid.

You will then get 27% of this $2 as rakeback from this hand, which equals $0.54.

Full Tilt rakeback payments.

Rakeback at FullTilt Poker is paid weekly on Fridays. The Friday payments are calculated from the rake you generate between Tuesday and Monday of the previous week.

So for example, if you generated $20 Full Tilt rakeback between Tuesday 10th and Monday 16th of the month, you would receive that $20 rakeback on Friday 20th.

Full Tilt bonus and rakeback.

You will still receive the 100% up to $600 bonus at Full Tilt when you sign up for rakeback. However, the bonus money is deducted from your MGR before your rakeback is calculated.

So for example, lets say that you generate $50 in MGR in one week. This should result in around $20 of bonus money. When calculating your Full Tilt rakeback payment, this $20 bonus money will be subtracted from the $50 MGR, which leaves $30 from which your rakeback will be calculated from (which is about $8 in rakeback).

After you have cleared the bonus, you will then receive of rakeback from your total MGR without any deductions. So if we use the $50 MGR example above, you would earn around $13.5 in rake after the sign up bonus has expired.

You earn more money with the additional bonus, even though it is deducted from your rakeback calculations. In the first example with the bonus you receive $28 ($20 bonus and $8 rakeback), and without the bonus you receive $13.5 solely in rakeback.
Can I get rakeback at Full Tilt if I already have an account?
Unfortunately you cannot receive rakeback if you have already signed up for an account at Full Tilt. It is a big shame I know, but you can be sure that you are not alone in your disappointment.
However, please contact me and I will see what I can do to help you with recommendations for rakeback based on your circumstances.
Full Tilt Poker rakeback help.
Any questions or queries about Full Tilt Poker rakeback, please don't hold back in contacting me. I am here to help you out.
International.
Go back to the rakeback poker rooms.