Party Poker Review
This is an old review.

Party Poker is still running, but it's no longer a part of my list of recommended poker rooms. This page hasn't been updated in a while, so take what you read with a pinch of historical salt.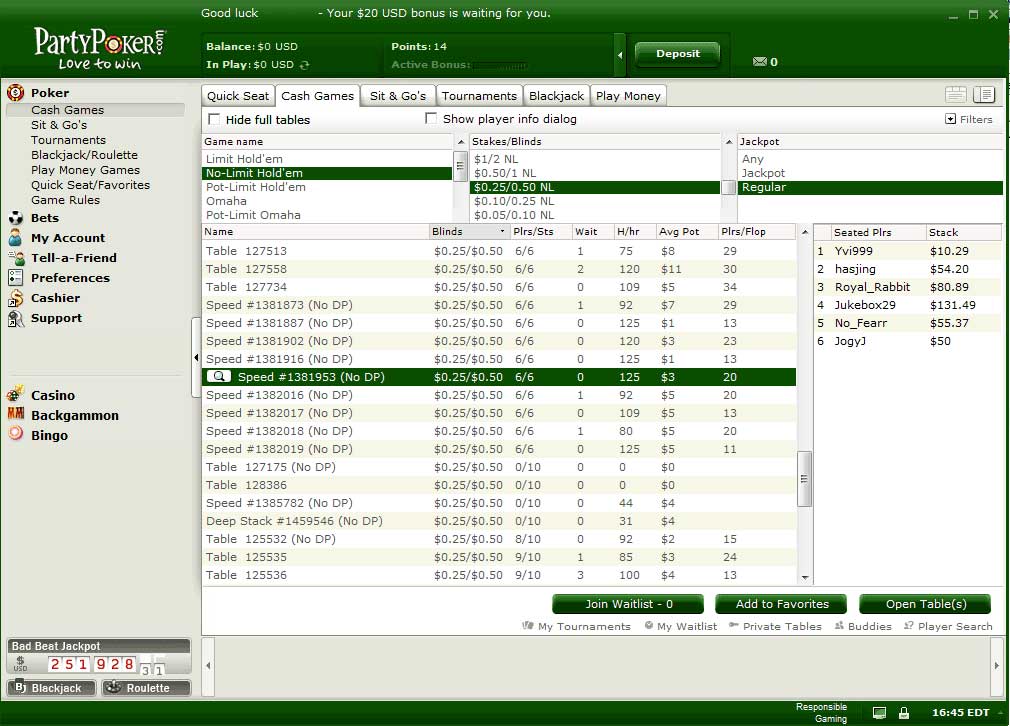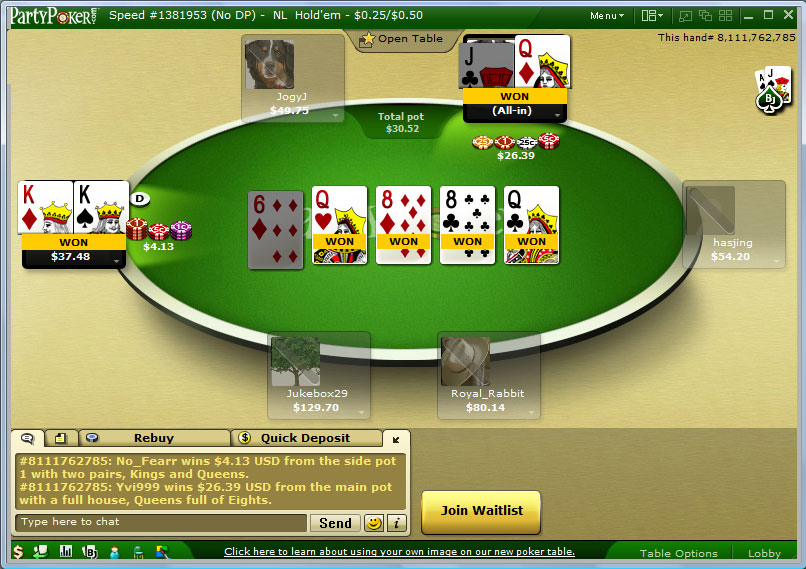 100% up to $500 Bonus
Party Poker overview.
I love Party Poker. Party is easily my favourite online poker room for Texas Hold'em Poker. If I want to have fun and make money, I play at Party. So yeah, that basically means I play there all the time these days.
Home to the worst players in online poker. You won't win easier money anywhere else.
Beautiful software and graphics.
Reliable support and high traffic.
Doesn't excel in any one area, but then that does not necessarily make it a bad room.
Aside from having delicious software, the best thing about Party Poker is the soft competition. The players are so clueless that I win far more money here than I would playing at any other room. The place is like a conservation area for fish. If you're not US-based and you're playing elsewhere, you're leaving money on the table.
Party Poker was actually the top online poker room for the longest time. Since they stopped accepting US players in 2006, they slipped in to the #4 spot behind PokerStars, Full Tilt and the iPoker network. But that doesn't matter, there are still more than enough players to fill up the tables 24/7, and that's all that matters.
Plus, the fact that they no longer accept US players is probably the reason why the games are so juicy. So for that, I'm thankful.
PartyPoker competition and traffic.
The #1 poker room for soft competition.
High traffic. #4 for traffic overall, but still an abundance of players.
There is more than enough traffic at Party, which means that you can play at whatever stakes you like and multi table at higher limits than you would be able to at smaller rooms like Bodog.
But as I keep saying, the bad players is what it's all about at Party.
Party Poker does an exceptional job of attracting casual players due to their style of advertising. There is a huge difference between the quality of competition at Full Tilt and PokerStars compared to Party.
Party Poker software.
Very stylish and impressively easy to resize windows for multi-tabling.
HoldemManager and PokerTracker 3 supported.
Lobby is a little cluttered. Takes a few minutes to get used to.
Party Poker is undoubtedly a very nice looking room (the Party Casino isn't bad either). The table design is very PokerStars-esque and has the sleek feel of the Bodog tables. In addition to this, the tables resize wonderfully, with the smallest windows being as clear and crisp as the largest ones.
There are only two minor negatives that I can think of:
The lobby is a little too busy for my liking. Takes some time to get the hang of.
For Mac users, they only offer an in-browser alternative. A downloadable app would be nice.
But to be honest, these are just tiny quirks. In fact, I'll go ahead and call it a fair trade-off for bringing in all the terrible players for me to take advantage of.
Party Poker VIP program.
Party Poker offers an addictive VIP program, where you can collect points and trade them for real money in the store. It's just like the system used at PokerStars.
The Party Poker VIP rewards program works out to give players the equivalent of getting between 5% and 20% of your rake back, which is handy.
Party Poker bonus.
100% up to $500 Bonus
When you are signing up to Party Poker, use the Party Poker bonus code BANKBONUS to get the optimum 100% up to $500 new player bonus.
The bonus is fairly easy to clear, but it is not as easy to clear as the bonuses at other major rooms like Full Tilt and PokerStars. Nonetheless, if you are a bonus whore, the bonus money works out to return about 25% of the rake you pay back to your account. Check the poker bonuses page to see how the Party bonus compares with others.
Party Poker bonus details.
General Bonus Details

| | |
| --- | --- |
| Bonus: | $500 |
| Match: | 100% |
| Time: | 120 days |
| Increments: | 10% |
| Bonus Code: | BANK500 |
Redeeming Bonus Details

| | |
| --- | --- |
| PartyPoints earned per $1 rake paid: | 2 |
| PartyPoints needed per $1 of bonus: | 8 |
| Total PartyPoints needed to redeem bonus: | 4,000 |
| Total rake paid to redeem bonus: | $2,000 |
| Bonusback: | 25% |
Go back to the Texas Hold'em rooms.