This is an archived page. The information is probably out of date, but I've left it here in case you find it useful for something.
New PokerStars Bonus - 100% up to $600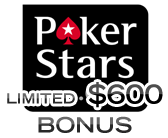 As of 4th August 2009, PokerStars is offering a new 100% up to $600 bonus as opposed to their old 100% up to $50 bonus.
I'm not exactly sure how long it will last for, but it might be an idea to get in there quick if you want to take advantage of this bigger bonus.
How to get the new $600 PokerStars bonus.
Enter the new

STARS600

bonus code when making your first deposit at the room.
Don't forget to use the PokerStars marketing code when signing up too (if you haven't done so yet).
Visit PokerStars and get the $600 bonus
The old bonus code STARS50 can still be used, but it will just get you the new and improved $600 bonus. It is no longer possible to get the old $50 bonus I'm afraid (even though it was easier to redeem - see below).
How does the new $600 bonus compare to the old $50 bonus?
In addition to the bonus amount itself changing, there are also some differences with the requirements for redeeming the bonus money. Lets compare the important information in a table...
| | New Bonus | Old Bonus |
| --- | --- | --- |
| Bonus: | $600 | $50 |
| FPPs/$1 bonus: | 17 | 10 |
| Total points needed: | 10,200 | 500 |
| Release: | $10 increments. | $50 flat. |
| Time: | 6 months. | 6 months. |
| Rake paid for full bonus: | $2,040 | $100 |
| Effective rakeback: | ~29% | ~50% |
If we do a little bit of maths with the new 17FPPs needed for $1 of bonus money instead of the old 10 FPPs (for the $50 bonus), we find that the new bonus is not quite as easy to redeem as the old $50 one. You now only get around 29% effective rakeback as opposed to around 50% effective rakeback with the old (and smaller) bonus.
However, this slightly more difficult clearing rate is only to be expected with the larger bonus amount, and for such a big bonus it's not too bad. You do end up getting more bonus money after all.
For more information on clearing good bonuses, check out my guide to the bonuses with the fastest clearing rates. These are also known as the "easiest" bonuses.
How does the PokerStars $600 bonus compare to Full Tilt's $600 bonus?
Well, Full Tilt's clearing rate is better.
Effective rakeback at Full Tilt: 42%
Effective rakeback at PokerStars: 29%
So if you have to choose between the two based on effective rakeback alone, Full Tilt wins. You can see the poker bonuses section for more details on how these clearing rates are worked out.
Visit PokerStars and get the $600 bonus
The $600 bonus or the $50 bonus?
Unfortunately, the old bonus is no longer available - it's just the new $600 PokerStars bonus now. Nonetheless, I'm going to see how they both stack up for the average player.
To summarize the old and new bonus offers...
The $600 bonus is bigger, but clears at a slower rate.

STARS600

The $50 bonus was smaller, but cleared at a quicker rate.
The smaller (old) bonus was best suited to the lower stakes player who was looking to build their bankroll quickly, as the smaller bonus would have been released sooner than the larger $600 one.
The big new $600 PokerStars bonus is handy for the higher stakes player ($50NL or higher) and intends on playing at the room for some time. Or maybe even if you're a lower stakes player that is happy to play at the room for a while and receive a larger amount of bonus money over a slightly longer period of time.
The cool thing with the $600 bonus is that it works out to give you 29% of your rake back during the bonus period, so for a good few months it will be like getting $600 of rakeback at PokerStars, which is more than the 27% Full Tilt rakeback deal on its own.
Even with the slower clearing rate, I prefer the new $600 bonus simply because of the extra bonus money on the table. The clearing rate isn't all that bad either in fairness, so unless you were a micro stakes player you're getting a better deal in my opinion.