This is an archived page. The information is probably out of date, but I've left it here in case you find it useful for something.
Best UK Poker Sites 2023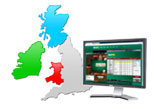 So, you live in the UK and you want to find the top online poker room most suited to UK players. Which is the best?
In this article I will give my honest opinion on what makes a good UK poker room and which poker room is best for UK Texas Hold'em players.
Am I qualified to do this? Yes, I'm from the UK myself (Wales to be precise).
Top UK poker room.
I recommend 888 Poker as the top poker room for UK players. I'm sure that you're all seen the 888 brand in adverts and on the sides of football pitches, so it should be a familiar name.
Lots of soft competition.
Very recognizable and trustworthy brand and company.
Understands online poker in the UK.
888 runs an incredibly successful casino and sports betting section, and their poker room follows suit. Overall, it's perfect choice for anyone looking to play at a UK-orientated room.
What makes a good UK poker room?
Good question. What exactly is it that would make a poker room most suited to UK players? After all, a good poker room is a good poker room. Here's what I think makes a good UK room:
Play in a currency you're familiar with (Pounds, of course).
A recognizable brand. We've all seen the adverts.
Company based close to home, both in the UK or Europe.
Focuses on UK players more so than on US or non-UK players in general.
Ability to manage your account and funds in £ Pounds.
So basically, a room that you can recognize and is orientated around UK players. I believe that 888 Poker ticks all of these boxes, along with the all important "solid online poker room in general" box.
Can you play in £ at 888?
Yes.
888 Poker has entire lobbies dedicated to GBP poker tables. You can access these lobbies easily from the sidebar in the poker client. The cash game stakes range from 2p/4p all the way up to £300/£600. There are also SNGs in Pounds too, but the only ones I could find were £1+£0.20 stakes tournaments.
The GBP poker tables aren't as popular as the USD tables, but there are still more than enough players to keep the GBP cash games nice and active up to the £1/£2 stakes. There were four £200NL tables running when I last checked (20:30 on a Friday), and the stakes below that were even busier again.
The cool thing as well is that you don't have to choose between GBP tables or USD tables either. You can switch between the two, or play both currency tables at the same time if you like.
Any other good UK poker rooms?
| Rank | Room | Rating | Account | Play | Mac | Bonus | Match | Play |
| --- | --- | --- | --- | --- | --- | --- | --- | --- |
| | Betsafe Poker | B | | | | €2,000 | 100% | Play Now |
Sky Poker is the best of the rest. As you can see from the table above, there are a handful of online poker rooms aimed at UK players. You may recognise a few of the names in there.
The problem is that not all these "UK rooms" have pound currency tables on offer, and if they do they are not as popular as they are at 888 or Sky Poker. So unless you have an exceptional reason not to (which I'm sure you don't), stick with 888 and Sky Poker.
Other notable mentions are Party Poker and Betfair. These are fantastic brands with a big presence in the UK. The only downside is that these rooms only allow you to manage your account in USD. It's not a terrible thing, it's just not terribly British.
Go back to the Texas Hold'em rooms.