Ultimate Bet Review
This is an old review. UltimateBet no longer exists. They went out of business on Black Friday (12 Apr 2011) I'm leaving this page as some sort of archivey-reference thing.
This is an old review.

UB Poker is no longer running. I've left this page here for nostalgia. Check out my current list of recommended poker rooms instead.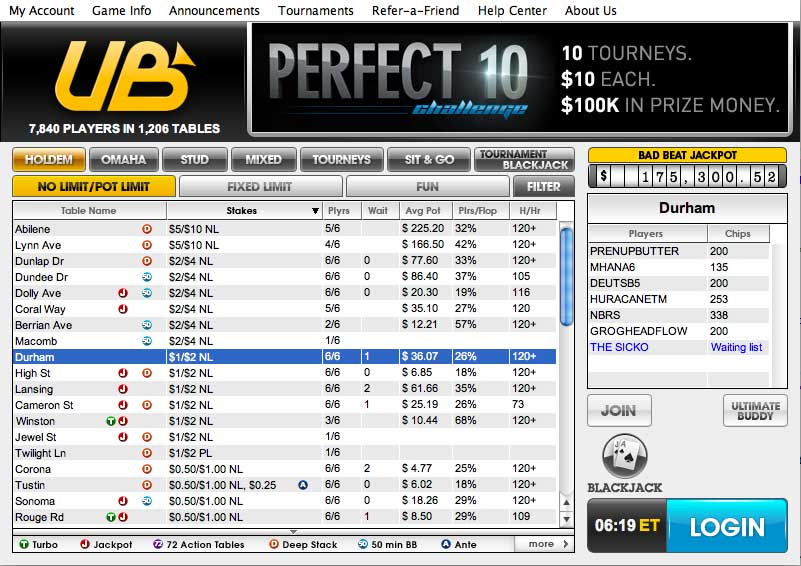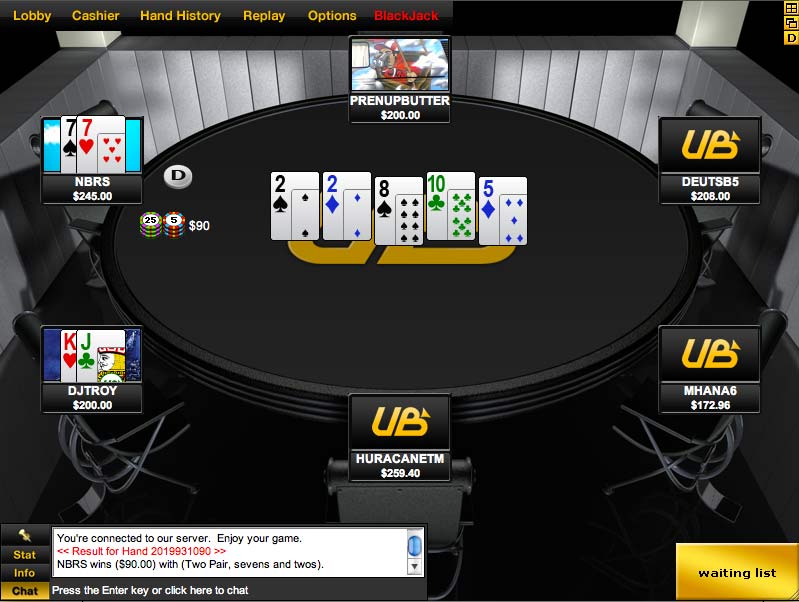 111% up to $1,100 Bonus
Ultimate Bet overview.
Ultimate Bet is right up there with the likes of Full Tilt when it comes to providing a US friendly rakeback poker room. If you've already got a Full Tilt account and you want to get rakeback, I'd strongly consider UB.
Great overall room. US friendly rakeback and solid software.
Good player traffic and Mac, PT and HEM compatible.
The room and network has had problems in the past.
I would actually go as far as saying the Ultimate Bet is on par with Full Tilt, with the only differences being that UB has better support than FT but FT has more traffic than UB.
However, although UB has been perfectly fine for a good few years, the room itself and the Cereus network has had issues with scandals in the past. Google it and you will see. Even though there have been no issues as of late, I'd still consider Full Tilt as the top rakeback room and have Ultimate Bet as the next best alternative.
UB competition and traffic.
Surprisingly soft tables for a rakeback poker room across many of the most popular stakes.
Good player traffic. Nothing astounding, but still very acceptable for multi-tabling.
Some players will hate me for saying this, but for a rakeback poker room Ultimate Bet plays host to quite a large volume of bad players. I'm not quite sure where they all come from seeing as UB doesn't have a Casino or Sportsbook attached to it, neither do they do a crazy amount of marketing, but the fact is that the tables are softer than at your average room.
The Cereus network (which UB is a part of) sits at the #6 position in terms of traffic, which puts it in the higher tier of poker rooms for player volume. That's all well and good, but what does that mean from a player's perspective? Well, at the majority of the stakes there will almost always be at least 5+ active tables at any one time throughout the day.
You won't have any problems multi-tabling, but you may find yourself becoming familiar with a number of other players at your stakes over time. The steady flow of bad players however makes up for this in my opinion.
Visit the Ultimate Bet website
Ultimate Bet software.
The best way to describe the Ultimate Bet software is straightforward, but it gets the job done. The biggest plus point is the compatibility trifecta of; Mac, PT and HEM.
Mac, PT and HEM compatible.
Table graphics are basic, but they are clean and do the job well.
Fast paced games. This could be good if you're a regular, or not so good if you're a casual or new player.
There is nothing lacking from the Ultimate Bet software. All the features you could want are there, even with a few extras thrown in for good measure. It all runs very smoothly and multi-tabling is a piece of cake. So really, no complaints at all when it comes to the overall software.
Also, for what it's worth the game runs at a pretty fast speed. As a regular player this is pretty cool as it means that you can squeeze more hands in to your sessions, but as a casual player this may be a little daunting at first.
The table graphics do leave a lot to be desired. They're not bad, but then they're not going to impress you either. Then again, this is a poker room we're talking about, not the Sistine Chapel. On the plus side the design is very clean and clear, which makes it easy to keep up with the action as it progresses.
UltimateBet Poker bonus.
111% up to $1,100 Bonus
The $1,100 UB bonus is very high in comparison to other new player bonuses, but the trade off is that it doesn't clear as easily as the smaller bonuses available at rooms like PokerStars (29%) and Full Tilt (42%). See the poker bonuses page for more details.
You do not need to enter a bonus code to get the UB; the bonus is available to all new players automatically. However, you should enter the referral code EAS on the sign up form and complete the details on the UB rakeback page to ensure that you get rakeback.

UB bonus details.
General Bonus Details

| | |
| --- | --- |
| Bonus: | $1,100 |
| Match: | 111% |
| Time: | 60 days |
| Increments: | $5 |
| Bonus Code: | EAS |
Redeeming Bonus Details

| | |
| --- | --- |
| Status Points earned per $1 rake paid: | 3.33 |
| Status Points needed per $1 of bonus: | 20 |
| Total Status Points needed to redeem bonus: | 22,000 |
| Total rake paid to redeem bonus: | $6,607 |
| Bonusback: | 16.65% |
The bonus is massive, but as mentioned it doesn't clear at a great rate. It's not horrific, but there are better bonuses out there. Fortunately, you do not have top clear the whole bonus within the 60 days, as only the remainder will be forfeit.
Go back to the Texas Hold'em rooms.