FBI Seizes Full Tilt Poker, PokerStars, AP and UB Domains
US Player? Find out which online poker sites are still accepting US players after the 4 biggest US rooms have closed their doors.
Posted: April 15th 2011
Updated: April 16th 2011
Updated: April 21st 2011
This is some huge news for US poker players. The FBI has seized the domain names for the following 4 poker rooms:
At the time of writing, it doesn't seem as though all the sites have all been updated, but this is a screenshot of the www.UB.com website right now: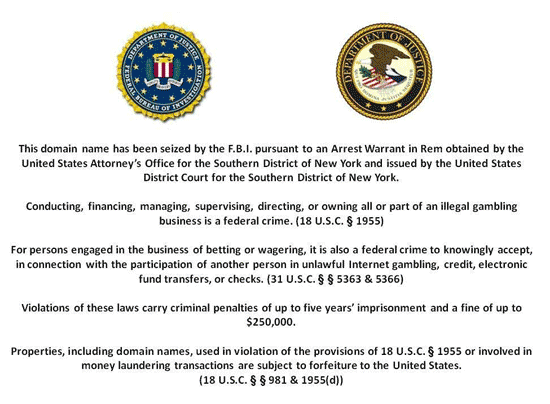 What's going on?
These 4 poker sites have been indicted (charged) with the following:
Bank fraud
Money laundering
Online gambling offenses
The charges appear to stem from the methods that online poker rooms have been using to move money in and out of online poker accounts from US banks.
I don't know the specifics, but that's the jist of it. Either way, these charges are very serious for these poker rooms.
From what I've gathered, it looks as though the US government has targeted the biggest US-accepting online poker rooms (Full Tilt Poker, PokerStars, UB Poker and Absolute Poker) in an attempt to put an end to online poker in the US.
What caused these indictments?
There's a rumour that Daniel Tzvetkoff -- a man with a lot of inside information about how payment processing for these US poker sites work -- let the DOJ in on some valuable information.
Has this come as a surprise?
Oh yes.
Nobody saw this coming, not even the poker rooms. It's been a huge surprise, so don't feel as though you've been left out of any loops on this one.
Sources?
Or you could just Google anything to do with "online poker" and see all the news articles that pop up. It's all over the Internet right now.
Is this serious?
Yes, for the poker rooms.
67 bank accounts owned by the poker rooms have been seized, and 3 of the 11 defendants have already been arrested (as of the 15th).
As a player at any of these rooms, I'd just be looking to withdraw my money and hope it comes through. There's no reason to believe that you're in trouble at all though, so don't worry about that. The US government just cares about the poker rooms accepting and processing payments, not players.
I have accounts at these rooms, but live outside the US. What should I do?
I'd highly recommend just playing it safe and withdraw your money from any player accounts you might have at Full Tilt Poker, PokerStars, UB Poker or Absolute Poker.
That's what I've done. My Full Tilt withdrawal came through immediately, and I'm still waiting on my PokerStars withdrawal.
And what then?
Well seeing as we're outside the US, we don't have anything to be concerned about. Online Poker is all well and good outside the US (well, in most places anyway - you'd know if it wasn't), so it's just business as usual. From our point of view, a handful of poker sites are having issues with the US government, so it's just a wise move to withdraw money from those sites to play it safe.
I'm personally moving my money from these accounts over to my Party Poker account. If you've spent much time at this site before, you'll know why.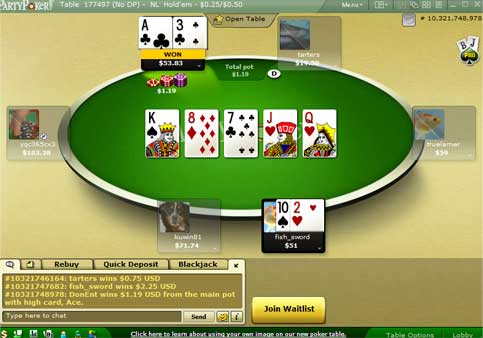 So again, I'm still going to be playing poker as usual. If you've got an active account at any of these 4 rooms that are having issues, I'd highly recommend you check out Party Poker and consider making this room your new home. That's the clever option.
Once you've done that, you can carry on playing online poker as normal without any concerns.
I'm a US poker player with accounts at these sites, what happens now?
My first plan of action would be to try and make a withdrawal. I honestly have no idea if this will be successful -- it's too early to tell. All we can do is wait and see what happens.
If you're still looking to play online poker in the US for real money, Bodog is the first name that comes to mind. It hasn't been caught up in any of these problems. Alternatively, check out this list of poker sites that are still US friendly (April 2011).
What's happening room-by-room.
Each of the 4 poker rooms' websites have been affected and changed differently.
Furthermore, some players are able to see the FBI "WARNING" image on some sites, whereas other are still able to get through to the standard room website. This is likely due to the fact the domain name changes haven't been updated in your area.
Here's a quick summary of the general goings on for each site.
PokerStars.
PokerStars is now using www.PokerStars.eu as the primary website domain.
US players have been prevented from making deposits and sitting down at cash games. Players are still able to log in to the poker client though.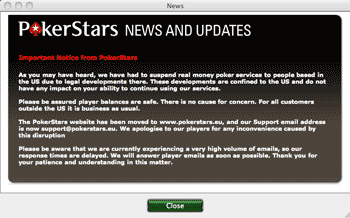 Full Tilt Poker.
Reports that the site initially redirected to www.FullTiltPoker.co.uk (everyone should be able to visit this domain okay), but is the .com is now showing the FBI message.
www.FullTiltPoker.co.uk is the new home for the Full Tilt.
Full Tilt suspends real money play for US players.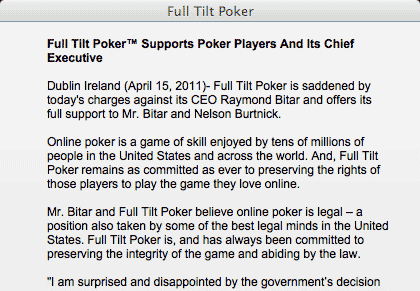 Absolute Poker and UB Poker.
Both sites appear to be showing the FBI message to the vast majority of visitors (as can be seen at the top of this page).
www.UBPoker.eu is now the current homepage for the UB Poker website.
Any other news?
That's all the main stuff I can think of right now. If you know of anything interesting that I've left out, I'd love to hear from you.
I'll update this page when I find out more.