PokerStars 25 Billionth Hand
This is an archive article that was written at the beginning of February 2009. The 25 billionth hand at PokerStars was dealt on Monday 16th February 2009. Read this news article for information on the winner of this hand.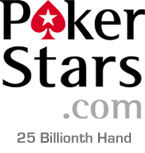 When a Poker room comes close to hitting a milestone number of hands, they usually like to throw in a big promotion to celebrate. The PokerStars room is coming close to dealing its 25 billionth hand.
Interestingly enough, this is a record number of hands dealt by any Poker room, both online and offline. It would actually take hundreds of years to deal that many hands.
But anyway, what's interesting about the promotion for the 25 billionth hand at PokerStars?
Bonus money for milestone hands.
Extra money added to every 1 millionth hand up to the 25 billionth one.
A 1 millionth milestone hand comes once about every hour.
Currently in effect now.
The added money you get from these milestone hands depends on the stakes you are playing for. If you're lucky enough to be sitting at a table being dealt a milestone hand, every player can expect to receive some bonus money - the winner of the hand will receive more though.
The table of added money to the hand looks like this:
| Stakes | Winner | Others |
| --- | --- | --- |
| Micro | $300 | $125 |
| Low | $750 | $250 |
| Medium | $1,250 | $500 |
| High | $2,500 | $1,000 |
After hitting a milestone hand and winning $1,250 in one hand at a different Poker room, I've fallen in love with milestone hand bonuses. It's not just "other lucky people" that win these sort of things, and with a milestone hand every hour, there's a great chance you're going to land yourself a nice bonus too.
The sooner you start playing at PokerStars the better. I'm going to be playing there quite frequently over the next few days for sure.
What do you get for playing in the 25 billionth hand?
Well, this is where the big prize is at. This is what's on offer for the winner of the 25 billionth hand at PokerStars itself:
$100,000 in cash.
European Poker Tour Monte Carlo Grand Final package.
PokerStars Caribbean Adventure package.
World Series of Poker package.
World Championship of Online Poker Main Event ticket.
The $100,000 in cash is tasty enough on its own, then throw in all that extra stuff and you've really got a great prize on your hands.
The other players at the table in this hand will share around $100,000 in prizes, so it's well worth logging into the PokerStars room to check to see how far away the hand is from time to time.
Keep an eye on the milestone hands for yourself.
In the PokerStars Poker room lobby, you can find a countdown clock of when the next milestone hand is coming, and how far away the PokerStars 25 billionth hand is.
It's very surprising to see how many hands are being played every minute, and how little time it takes for 1 million hands to be played.
The 25 billionth hand is likely to turn up at around the 18th of February to my estimations, possibly earlier though.

My advice?
Sign up at PokerStars and start playing as quickly as you can. There is a hell of a lot of bonus money out there to be won, so I wouldn't waste any time and miss out on all the free and easy money on offer.
Also, if you've got the skill, you should try and multi-table as opposed to playing at one table. This will increase your chances of being involved in a milestone hand.
Best of luck with hitting those milestone hands everyone.
The winner of the 10 billionth hand.
This is not actually the first time PokerStars has run a milestone promotion like this. A Canadian student called Justine Hall won $100,000 playing at the 1c/2c tables for winning the 10 billionth hand in 2007.
Yeah I know, 1c/2c! Just goes to show that you do not have to be a super high limit player to win the full prize money for the big milestone hand.
I can't find a video for the 10 Billionth hand, so here's a video of the big winning hand from the older 5 Billionth promotion (it says 10 Billionth, but it's actually the 5 Billionth):
Go back to the archives.