Types Of Poker Software
This article highlights the differences between the main types of poker software. You can find software recommendations and more information on the poker software page.
There are many different poker programs available that offer to help you improve your poker playing ability. Different poker programs however are designed individually to help you improve in different ways.
This means that certain programs will be more beneficial to the development of your game depending on your current ability and the method in which you want to learn. The 3 most common types of poker programs are: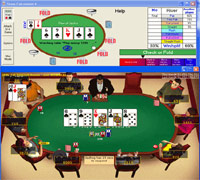 Odds calculators are downloadable programs that you open up during gameplay and run in conjunction with the poker room's software. The software is able to read every aspect of each hand such as the cards on the board, your own holecards, the size of the bets and much more in real game time.
These programs mainly use poker mathematics such as pot odds to help you make the most profitable decision in each situation.
The calculators then process this information to give you advice on the best action to take. These programs are useful if you are looking to obtain a solid strategical approach to poker through the use of tips and advice on every hand you play.
This type of software will work well at lower and intermediate limits, but not so well at high limits where the play is more advanced. If you implement the advice given to you on each hand you should be able to make money easily.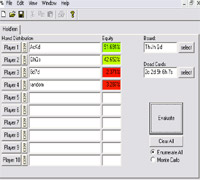 Equity calculators or online 'odds calculators' are usually free online non-downloadable programs that you use directly on the websites. There are however some downloadable hand analyzers such as PokerStove (which is amazing).
These programs will allow you to create specific match-ups between two different hands to determine the chances of each of them winning the pot. You are also able to choose which cards appear on the board to find out the chances of each hand winning at different stages in the hand.
The more advanced hand analyzers such as PokerStove will allow you to choose 'dead cards' which are cards that you know for whatever reason will not be dealt on the board at any point amongst other advanced features.
For an example of this type of program have a go at the free odds calculator on this site.
Holdem Manager is an essential tool for any player looking to win money from online poker.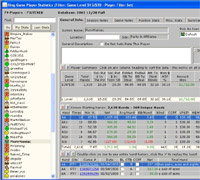 Game analyzers are the most complete poker programs available. These programs run in the background and record every play you make into a database and present this information to you in the form of graphs and tables.
These programs are almost essential for any frequent online player due to their ability to accurately record wins/losses and to help you spot any leaks in your game.
For example, if you are unsure of whether or not you pay too much for flush draws, or whether JTs in late position is a profitable hand for you, game analyzers will be able to tell you.
This is only scratching the surface when it comes to these programs, as they offer numerous helpful features. The most popular tracker is Holdem Manager, which also includes a table overlay which gives you information about the way your opponents play.
These programs are aimed at the long-term players and I can comfortably say that they make a very wise poker investment.
Which software is most suitable for you?

So now you have to decide which one is for you. If you are still a little unsure we have described the type of player each of these programs will be best suited for:
Odds calculators.
Playing frequency:

Occasional

Ability

: Beginner/Intermediate
This software is suitable for the player that knows the basic rules of poker and has started playing a little more frequently online. Odds calculators are handy for those that are not yet winning players and would like to have some advice on each hand they play and start earning some money through online poker.
Equity calculators.
Playing frequency:

Any

Ability

: Any
Equity calculators are useful for all types of players. Besides, PokerStove is free so you have no reason not to download it and try it out.
They may take a little getting used to at the start (especially if you're a beginner), but they will prove to be incredibly useful throughout your poker playing career.
Game analyzers/trackers.
Playing frequency:

Frequent

Ability

: Intermediate/Advanced
Every serious (or even semi-serious) online poker player has tracking software, with Holdem Manager being the most popular.
They're not going to be overly valuable for recreational players, but if you want to try and become a winning player you need to get your hands on one of these. Poker tracking programs are so powerful when it comes to helping you improve your game that it would be a crime to brush them to the side.
Go back to the archives.