Thankyou!
All done. Your ebook has been sent to your email address!
Perfect! Your eBook is on its way.
Check your email inbox and it should be there shortly. Give me a shout if it doesn't make it for whatever reason and I'll sort it our for you. Give it 10 minutes first though.

Enjoy!
Now put your knowledge to the test.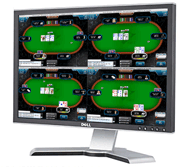 The best way to learn is through practice. After reading the ebook, I'd highly recommend you jump straight in to playing online poker.
Get your teeth in to some hands and use the strategy from this site and in the ebook to help you win money.
Check out this list of my recommended online poker rooms and start playing some online poker now.
Honestly, the more hands you play the better. Don't let good strategy fade away because you forgot to test it out. Use it or lose it.