404 Error - I'm Really Sorry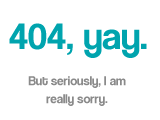 It's everyone's favourite error when browsing the web - the 404 error. It looks as though this page no longer exists or has been moved somewhere else.
Typical eh? I bet you were really looking forward to viewing that page too.
Wait! Let me help you.
This error is probably my fault, so please help me to help you by letting me how you got to this error.
Send me an email at greg[at]thepokerbank[dot]com and let me know which link you clicked on from which page, or the URL that you followed to get here. The chances are that I will be able to find the page you were looking for and help you out.
Failing that, you will still be able to get a direct apology from me.
How about these pages instead?
Unfortunately there is not a lot I can do to help unless you email me, but as a consolation prize I have a few pages that might interest you:
If that's no use, just click the back button and try no to get too annoyed. I would welcome an angry email if you makes you feel any better though.