Americas Cardroom accepts US players. Perfect.
Americas Cardroom Review 2023
Name:

Americas Cardroom

Website:

americascardroom.eu

Established:

2011

Network:

WPN

License:

Cyprus Gaming Authority

Available On:

Windows, Mac

Traffic:

High

Competition:

Tricky

Rating:

A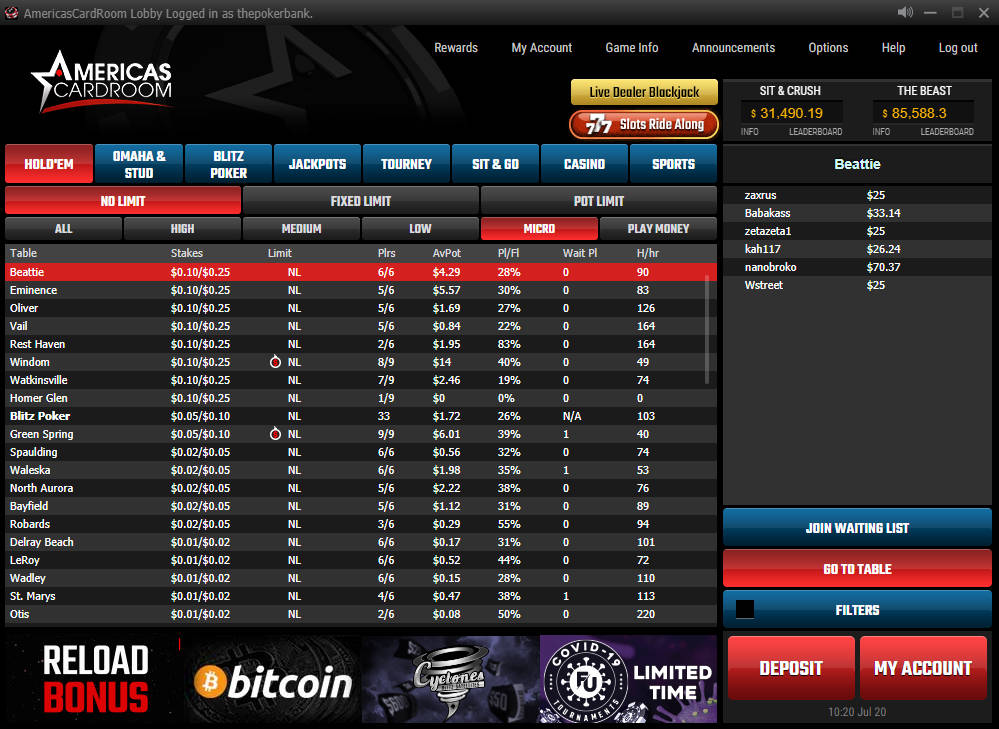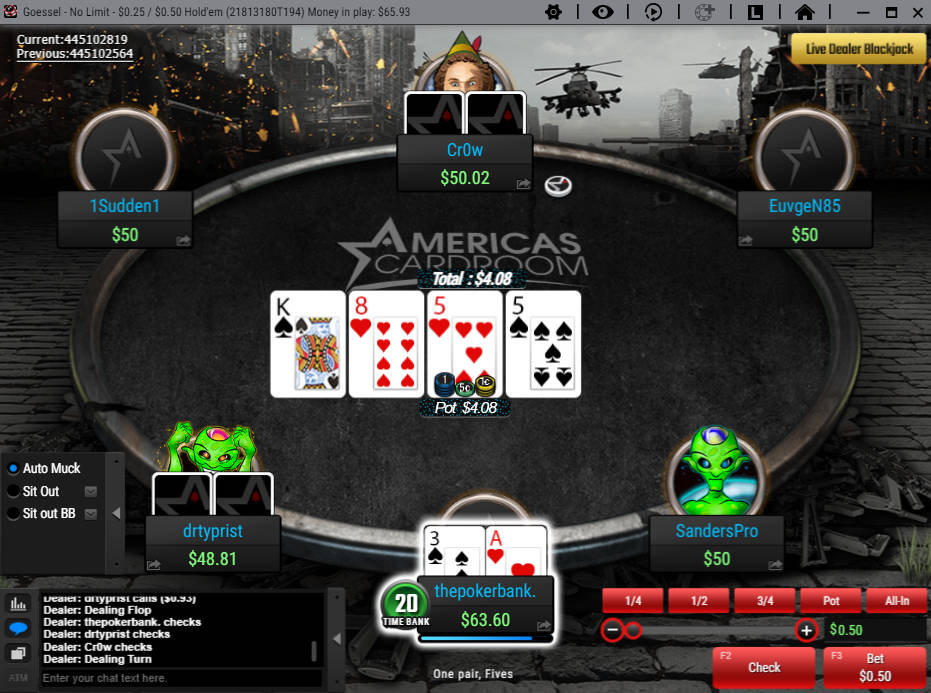 It's one of the top two options you've got as far as US online poker goes, and it's the top option on a worldwide scale. It's got a similar number of players as Ignition Poker, but I find that the players at Ignition are softer, and their software is more enjoyable to use.
Nonetheless, online poker in the US is a tricky business, so you've got to have some swagger about you to run a US-facing poker site for real money, let alone call it Americas Cardroom.
But the name is warranted, as it remains a reliable option for online poker if you live in the US (or anywhere else in the world for that matter). This room is currently the biggest arena for online poker players across the world.
Which countries do they accept players from?
Accepted Countries
Afghanistan
Aland Islands
Albania
Algeria
American Samoa
Andorra
Angola
Anguilla
Antarctica
Antigua and Barbuda
Argentina
Armenia
Aruba
Australia
Austria
Azerbaijan
Bahamas
Bahrain
Bangladesh
Barbados
Belarus
Belgium
Belize
Benin
Bermuda
Bhutan
Bolivia
Bonaire, Saint Eustatius and Saba
Bosnia and Herzegovina
Botswana
Bouvet Island
Brazil
British Indian Ocean Territory
British Virgin Islands
Brunei
Bulgaria
Burkina Faso
Burundi
Cambodia
Cameroon
Canada
Cape Verde
Cayman Islands
Central African Republic
Chad
Chile
China
Christmas Island
Cocos Islands
Colombia
Comoros
Congo
Congo (Democratic Republic of the)
Cook Islands
Costa Rica
Croatia
Cuba
Curacao
Cyprus
Czech Republic
Denmark
Djibouti
Dominica
Dominican Republic
East Timor
Ecuador
Egypt
El Salvador
Equatorial Guinea
Eritrea
Estonia
Ethiopia
Falkland Islands
Faroe Islands
Fiji
Finland
French Polynesia
French Southern Territories
Gabon
Gambia
Georgia
Germany
Ghana
Gibraltar
Greece
Greenland
Grenada
Guam
Guatemala
Guernsey
Guinea
Guinea-Bissau
Guyana
Haiti
Heard Island and McDonald Islands
Honduras
Hong Kong
Hungary
Iceland
India
Indonesia
Iran
Iraq
Ireland
Isle of Man
Israel
Ivory Coast
Jamaica
Japan
Jersey
Jordan
Kazakhstan
Kenya
Kiribati
Kosovo
Kuwait
Kyrgyzstan
Laos
Latvia
Lebanon
Lesotho
Liberia
Libya
Liechtenstein
Lithuania
Luxembourg
Macao
Macedonia
Madagascar
Malawi
Malaysia
Maldives
Mali
Malta
Marshall Islands
Mauritania
Mauritius
Mexico
Micronesia
Moldova
Monaco
Mongolia
Montenegro
Montserrat
Morocco
Mozambique
Myanmar
Namibia
Nauru
Nepal
Netherlands
New Caledonia
New Zealand
Nicaragua
Niger
Nigeria
Niue
Norfolk Island
North Korea
Northern Mariana Islands
Norway
Oman
Pakistan
Palau
Palestinian Territory
Panama
Papua New Guinea
Paraguay
Peru
Philippines
Pitcairn
Poland
Portugal
Puerto Rico
Qatar
Romania
Russia
Rwanda
Saint Barthelemy
Saint Helena
Saint Kitts and Nevis
Saint Lucia
Saint Martin
Saint Pierre and Miquelon
Saint Vincent and the Grenadines
Samoa
San Marino
Sao Tome and Principe
Saudi Arabia
Senegal
Serbia
Seychelles
Sierra Leone
Singapore
Sint Maarten
Slovakia
Slovenia
Solomon Islands
Somalia
South Africa
South Georgia and the South Sandwich Islands
South Korea
South Sudan
Sri Lanka
Sudan
Suriname
Svalbard and Jan Mayen
Swaziland
Switzerland
Syria
Taiwan
Tajikistan
Tanzania
Thailand
Togo
Tokelau
Tonga
Trinidad and Tobago
Tunisia
Turkmenistan
Turks and Caicos Islands
Tuvalu
U.S. Virgin Islands
Uganda
Ukraine
United Arab Emirates
United Kingdom
United States
United States Minor Outlying Islands
Uruguay
Uzbekistan
Vanuatu
Vatican
Venezuela
Vietnam
Wallis and Futuna
Western Sahara
Yemen
Zambia
Zimbabwe
Which states do they accept players from?
Accepted States
Alabama
Alaska
American Samoa
Arizona
Arkansas
California
Colorado
Connecticut
District Of Columbia
Federated States Of Micronesia
Florida
Georgia
Guam
Hawaii
Idaho
Illinois
Indiana
Iowa
Kansas
Louisiana
Maine
Marshall Islands
Massachusetts
Michigan
Minnesota
Mississippi
Missouri
Montana
Nebraska
New Hampshire
New Mexico
New York
North Carolina
North Dakota
Northern Mariana Islands
Ohio
Oklahoma
Oregon
Palau
Pennsylvania
Puerto Rico
Rhode Island
South Carolina
South Dakota
Tennessee
Texas
Utah
Vermont
Virgin Islands
Virginia
West Virginia
Wisconsin
Wyoming
Tip: If you live in Delaware, Kentucky, Maryland, Nevada, New Jersey or Washington try SwC Poker instead (they accept players from all states).
Who runs Americas Cardroom?
The poker room's parent company is an established Sportsbook (also serving US players), so you're not dealing with a fly-by-night poker site here. They bought the old DoylesRoom poker room when good ol' Doyle decided to get out of the business in 2011 (due to Black Friday). It was then rebranded as "Americas Cardroom", and aimed it directly as the US online poker market.
If Americas Cardroom is deficient in anything, it's certainly not balls.
But anyway, the parent Sportsbook has a solid reputation for payouts and honoring bets. It's one of those companies where their website looks like it was built in the 90s, but they're reliable, so people trust them and continue to use them for wagers.
As a result, Americas Cardroom is a reliable a option for US poker players.
I'm not going to publish the name of the company here, but using the information above you should be able to find out more.
Software
A lot better than I expected. The WPN network (used to be called the "Yatahay Network" up until 2012) used to be a joke when it came to their poker room clients. But now their client looks great, although clearly borrowing a few design elements from PokerStars's client.
And by "borrowing a few design elements" I mean "directly copying". But I'm not one to judge.

Nonetheless, the software runs smoothly, so it's a fine room to play poker in. The audio however is horrendous, as it sounds like you're playing on a broken slot machine. But then again I have a dubious taste in music while playing poker; I listened to this song (hauntingly relaxing) on repeat for a steady six months straight while playing online. Good times.
But anyway...
I'm not a big fan of the cartoon avatars either, but with a few clever adjustments in the settings you can construct a clean workbench like so: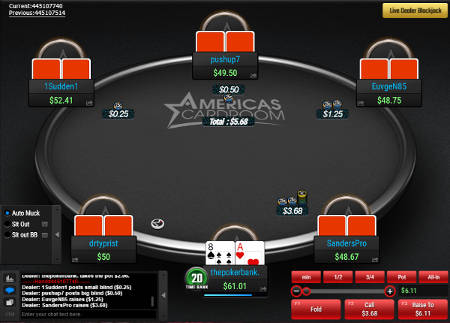 The biggest issue I have with the ACR software is that it throws occasional popups for casino games when you're in the lobby. These games are always -EV, and it's disappointing that you have to deal with them. If you're serious about protecting your bankroll, avoid them at all costs.
Traffic
Enough players here to keep the cash games running up to $600NL at peak times. So you're not going to have any trouble playing poker at the stakes you're currently playing at (or are looking to move up to).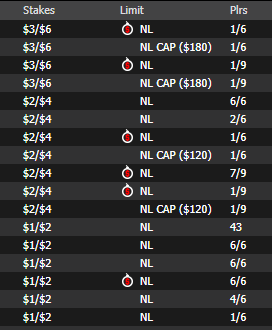 It's slim-pickings at the high stakes tables though ($1000NL+), as most open tables are commandeered by sole regs waiting for unknowing fish to turn up.
Overall, traffic is good. It seems most US players who want to play poker online (and don't care for bitcoin poker just yet) are either playing at Ignition or ACR.
What's the competition like?
It's trickier than your average poker room.
The main problem with Americas Cardroom is that it is primarily a poker room. Sites like Ignition and Betsafe also run popular casinos, so they come with a pool of casino gamblers that flow in to the poker room.
The players at Americas Cardroom are there solely to play poker, so they're specialized.
This is not to say that everyone I've sat down with is 3-betting on the button by default, but the overall standard is certainly higher than that of other rooms. Most players seem to be thinking about what they're doing, and not just playing their cards.
You can still win money if you're a good player, but it's not the softest site you're going to find.
Cashier
The main deposit options are:
Americas Cardroom was one of the first online poker rooms to adopt bitcoin as a payment option, and now cryptocurrency is the primary method for getting money in to and out of the room.

So basically, if you want to play at ACR, you're going to need to get yourself some bitcoin. It might seem like a hassle at first, but like I always say, once you start using it you'll appreciate the efficiency of it.
See my bitcoin poker guide for more information on getting started.
There are various cryptocurrencies out there, but I'd recommend sticking with Bitcoin only. It's the flagship cryptocurrency, and it's the most established and least volatile.
Other Stuff
Straddle Feature - This is a fun box to tick whilst seated at the table. Makes me feel like I'm playing on an episode of High Stakes Poker (best poker TV show ever). "If a player in the position after the Big Blind has the straddle button pressed he/she will pay a double blind automatically and will steal the BB player's position."
Hand Replayer - Intelligent addition. If you're a smart poker player, which you are, you'll be happy to know that you can quickly and easily run through the hands you played in your last session. Works like a charm. Thanks ACR, you clearly know what you're doing here.
Links
Conclusion
Americas Cardroom accepts players from all countries, so it's always going to be on the shortlist of possible destinations for almost all players.
It's not my personal favorite room at the moment, but that's mostly because I prefer the software at sites like Ignition and SwC Poker, and because I find the players at ACR a bit trickier to play against.
However, the poker room has high levels of traffic and is operated by a reliable parent company, so I'm obliged to suggest it as an option. You might like it more than I do.

Go back to the Texas Hold'em rooms.