This room now runs under the name SwC Poker.

The original SealsWithClubs poker room closed on 20 Feb 2015, but was reincarnated by a new group of volunteers shortly after, and has been running smoothly since 2015.

I'm keeping this review of the original room for the purposes of nostalgia.
This is a bitcoin poker room. The only deposit and withdrawal method is Bitcoin.
Seals With Clubs Review
This is an old review.

SealsWithClubs is no longer running. I've left this page here for nostalgia. Check out my current list of recommended poker rooms instead.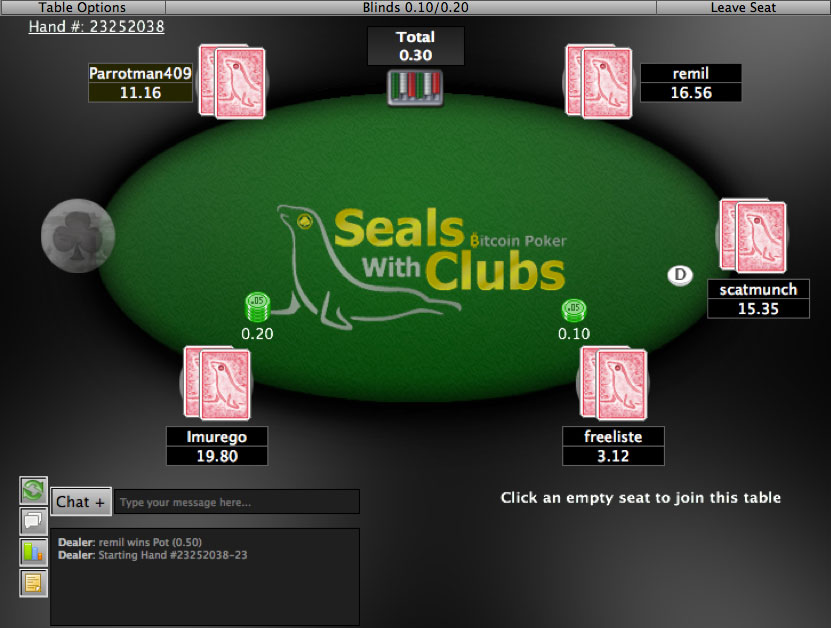 Summary
SealsWithClubs is the first ever bitcoin poker site (2011), and I absolutely love it.
US players accepted
Fastest possible deposits and withdrawals (the best part)
Lower-rake (due to bitcoins being cheaper to move around)
Bitcoin poker players have a tendency to be worse than "normal" poker players.
It's no secret that I think bitcoin has a lot of potential. I love how easily you can move money, and the control you have when you're depositing and withdrawing from your online poker account. I think of Bitcoin as how money should work, and Seals With Clubs is proving it with their online poker room.
The downside is that SWC is a new room, and so the traffic is low and the software is basic. You're also taking a calculated risk by converting your money in to bitcoins, as this currency is not (and never will be) backed by a government.
I still love it though, and I'm really excited to be playing poker against other people with bitcoins.
Why is the room called "Seals with Clubs"? That's a good question.

A truly excellent question.

Software
It's basic, but cool.
It's not basic in the way that it makes playing at the room uncomfortable. Playing poker is fine. It's just that because this is a relatively newly-developed poker room it hasn't got all the bells and whistles of a large poker site like PokerStars.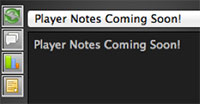 For example, at the time of writing, Seals With Clubs does not have a player note-taking feature.
The table graphics aren't gorgeous either. The poker room client is an example of what happens when a programmer tries their best to make a good piece of software look pretty, but it's obvious their coding skills are better than their design skills.
I don't care that much because I'm in it for the pokers. I just want a platform to work from. But if you want sleek graphics when you're playing online poker, try PokerStars instead.
The best thing I can say about SWC is that they're putting usability before design, and when you've got money at stake that's a preferable order to work in.
Traffic
This is the weakest aspect of SealsWithClubs. There are only between 300 and 500 players logged in at any one time.
What does this mean? Well, you shouldn't have a problem sitting at a cash game up to the equivalent of $100NL, but don't expect to have a lot of tables to choose from. The SNGs are also dry and you'd be lucky to quickly and consistently play tournaments at any level.
But... the room is still playable.
You can get in on a micro/low stakes cash game at the more popular times of day, although it's slim-pickings at off-peak times. Hopefully the traffic will begin to pick up as more people take an interest in bitcoin, but it's not like there's a glorious poker festival taking place at Seals With Clubs right now.
Competition
This is why I love Seals With Clubs.
I think the payers at SWC are much worse on average than at every other non-bitcoin poker room. Why? Because most people with bitcoins aren't poker players, and the better poker players haven't figured out how to use bitcoins yet.
If you're a regular, you have no incentive to ditch your favourite USD poker room and start playing at a much smaller room with a weird new currency. And if you're an early bitcoin adopter, you've found yourself with a bunch of disposable cash to play around with. Online poker seems like good fun, right?
This Bitcoin ecosystem is creating a unique pool of poker players at SWC that I think can be exploited.
But won't this review create an influx of good players in to SWC? Probably not. I think you're overestimating how many people will read this review, and overestimating how many of those will actually go out of their way to get some bitcoins to play poker with. Bitcoin is still a hard sell.
I think there will be opportunity to make money from bitcoin poker fish for a good while yet. Enjoy it while it lasts. I will be.
Cashier
This is the glory of it all. You will not have experienced such an easy deposit and withdrawal system at any other online poker room.
You need to use it for yourself to see how much better it is. Grab a few bitcoins and start playing poker. I love it.
About SealsWithClubs
SWC was founded in August 2011 by a small number of online poker pros as an option for US players after Black Friday (15 Apr 11). The pros remain anonymous, but they have still managed to grow the payer base and reputation of the poker room since launch.
Check the thread: https://forumserver.twoplustwo.com/28/internet-poker/seals-clubs-closed-see-new-swcpoker-thread-1248197/
Note: Why anonymous? Because if you're creating an opportunity for anyone in the world to play online poker freely, there's a chance that some people will want to stop you so that they can get a cut of the profit.
The anonymity thing will turn a lot of players away from the room, but I don't mind it. I understand why it has to be this way, and I like the way they talk in their Bitcoin FAQ and Seals FAQ on their website.
I also like the way they conduct themselves across their social media profiles. You're probably going to want to check these out as this is another insight in to the people you're dealing with:
Twitter (their most active social media profile)
Reddit (basically a subreddit for support issues and questions, not very active but nice to have there)
But to get the full history of the room and to see how they deal with player issues, check out the SWC thread on twoplustwo or the SWC thread on the bitcointalk forums. They're 500+ and 200+ pages apiece, but it's all there for you to see.
You can also check out Bryan Micon, as he's the "Chairman" and looks after affiliates for SWC. He's also the only public representative of the room. Micon has long been a polarising personality in the poker industry, but I don't question his honesty.
As I keep saying, SealsWithClubs isn't the online poker room for everyone, but it's an interesting place that is worth looking in to if you've got the right personality for it.
Go back to the Texas Hold'em rooms.