This is an archived page. The information is probably out of date, but I've left it here in case you find it useful for something.
Party Poker Real Money
Quick Start: Click here to open a real money Party Poker account now.

How to get started playing for real money at PartyPoker.
This is incredibly straight forward. It took me less than 5 minutes when I first did this.
Visit www.PartyPoker.com
Download the software.
Install it.
Create your account.
1) Visit the Party Poker website.
Easy first step. Visit the official www.PartyPoker.com website if you're not there already.
2) Click "Play Now" to download the free poker room software.
There's a big button on the Party Poker homepage. It should say "Play Now" or something like that. Click it.
This will start the download of the Party Poker room software. This should only take a few seconds download – even if you happen to have a ridiculously slow connection.

Note: If you're a Mac poker player you'll want to select the "instant play" option. This is their browser-based version that has been developed specifically for Mac and Linux users.
3) Install the Party Poker software like you would with any other program.
The program should start to install itself after it has finished downloading. If it doesn't, just find the downloaded file and click on it to install it like you would with any new Windows program you want to install.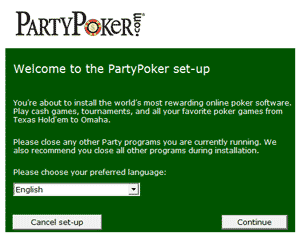 After this you'll be taken through the usual installation steps, which shouldn't take more than a minute or so. Just keep clicking "continue" or "next" and it will all be ready in a snap.
4) Create your own account.
Perfect! Party Poker is now all set up and running on your computer. All you need to do now is create your very own PartyPoker account.
Click on the "Create an account" button and you'll be taken to a very simple sign up form. Just pop in your details (don't worry, PartyPoker is as trustworthy as they get) and click to continue.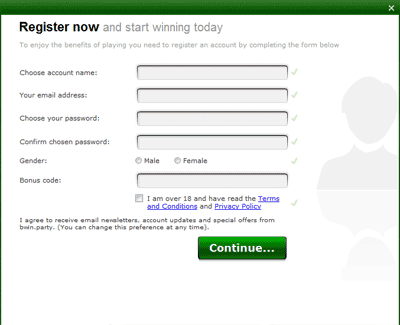 Tip: Use the bonus code BANK500 when filling out this sign-up form. If you use this code you will be entitled to a bigger 100% up to $500 bonus when you decide to make your first deposit. Thank me later.
And that's it. All done. You have your very own real money account at PartyPoker.
Don't make the mistake I did and completely forget your password an hour later. You can always retrieve it, but it's easier to note your player account details down (the username and password will do) somewhere safe. It might even be worth checking out a program like 1Password to manage your passwords – I don't know what I'd do without that these days.
So, all you need to do now is make that exciting first deposit. Fortunately, funding your PartyPoker real money account for the first time is even easier than creating it…
Start playing for real money at Party Poker now
Making a real money deposit.
Getting to the cashier.
To make your first deposit at Party Poker you'll need to head to the cashier. You can get here by clicking on the "cashier" link in the sidebar of the PartyPoker client.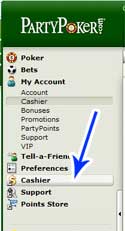 After you've done this you'll be greeted with the deposit tab that will have a bunch of deposit options on offer.
Which deposit option?
There are a number of different ways to fund your PartyPoker account. The most popular options are:
Debit/Credit Card (e.g. Visa, Solo, Maestro, Mastercard) - This is my recommended option. It's super easy and quick, plus most people have bought or paid for something online with their card before, so it's not something new.
Online Wallet (e.g. Paypal, Skrill, Neteller) - Some of you may already have what's known as an "online wallet", which allows you to store money and pay for stuff online. If you don't have one then don't worry about it – just stick with your debit/credit card.

Bank Transfer

- Although this is a perfectly fine way to fund your poker account, it's not preferable as it can take up to 4 days for the money transfer to be processed. I'd only go for this method if I wasn't able to use either of the two options above.
So if you're at all unsure, stick with your credit card or debit card for making a real money deposits. It's instant and easy, and it's comfortably my preferred option for funding my Party Poker account. I've never had any problems in the 10+ times I've used this method.
Of course, all the options on offer are perfectly fine – I don't have a bad word to say about any of them. So if you see a method that you're familiar with and would prefer to use over your card then by all means go for it. Just make sure you keep an eye on the deposit time frames, as not all the methods are instant.
What about the USD currency?
The default currency at Party Poker is the USD. However, this has absolutely no effect on your ability to deposit money. If the money in your bank is in EUR, GBP or CAD (or a different currency again), your deposit will simply be converted to USD automatically for you to play with.
So don't let the USD currency worry you at all – it's just the way the Party Poker room works to help keep all the real money cash games and tournaments in order. As you can imagine, it would be a mess if players were playing for real money in different currencies, so the USD is the default.

When you go to make a withdrawal from PartyPoker, your funds will be converted back to your original currency at the current exchange rate. It all works very smoothly.
Start playing for real money at Party Poker now
Different types of real money games.
There are two main types of real money poker games (or "tables") at PartyPoker.
Tournaments
1) Cash games.
Cash games are the format of poker that you've seen on TV and in movies. You know, like this scene, but obviously a bit more virtual. Players sit down at the table with real money in front of them, and they make bets and raises with this money. There is no start and no finish to cash games. You can play for as long as you like.
As you'd expect, the value of the chips in front of you are equal to real money values. So, if you win a $50 pot, that's an extra $50 in your pocket. Simple.
The minimum and maximum buy in for cash games is usually 20 to 100 times the size of the big blind. So if you want to play in a game where the blinds are 25c/50c, the minimum and maximum you can initially sit down with will be $10 and $50.
2) Tournaments.
Tournaments games have a start and finish. A set number of players enter a tournament, and the players that finish the highest win money. You cannot leave a tournament after winning a few pots and walk away with the money – you have to play until the end (or until you are knocked out).
There are two types of real money poker tournaments:
SNGs
MTTs
SNGs are usually single-table tournaments with a maximum of 9 players. These are quick and easy tournaments that do not take very long to complete (usually between 15 minutes and an hour depending on the type of SNG game you're playing in).
MTTs are just bigger versions of SNGs. These allow for 100s of players to enter for the chance to win part of a much bigger prize pool. As you can guess, there are multiple tables in these tournaments to accommodate all the players, and they usually take 3+ hours to complete.
Which poker game for real money is the best?
Honestly, they're both good fun. Play the format you enjoy the most.
Personally I enjoy the thrill of playing the cash games where the real money is exactly that – real money. On the other hand, I know a lot of players enjoy the "security" of tournaments, as you can't lose any more than that initial buy in, which can feel like a more controlled way to play online poker.
I'd recommend you try both cash games and tournaments. Play a few low stakes games in each format and see which you like the best. Having said that, there's no reason why you can't play a mix of both!
How much money can you play for?
You can play for almost as much or as little as you like. Here's a list of the range of stakes on offer at Party Poker for real money cash games and tournaments.
PartyPoker Cash games stakes.
1c/2c
2c/4c
5c/10c
10c/25c
25c/50c
50c/$1
$1/$2
$2/$4
$3/$6
$5/$10
$10/$20
$15/$30
$25/$50
The popularity at each of these stakes decreases as you move up from one level to the next.
The 50c/$1 stakes and below are always very busy, so there'll always be at least 10 or more tables running for you to choose from. As you move further up the stakes the number of active tables thins out a little. However, It's common to see a few tables running at the highest stakes of $25/$50, which is impressive. It's all thanks to Party's high player traffic.
PartyPoker Tournament stakes.
Sit and Go

$1
$3
$6
$11
$22
$33
$55
$109
$210
$310
$510
$1,010
$2,010
$5,010 (yep, seriously)

Multi Table Tournaments

$1
$3
$4
$6
$9
$11
$22
$27
$33
$55
$70
$80
$99
$109
$215
$530
$640
Note: This is just a rough summary of the MTT stakes. There are a bunch of varying buy-ins on offer, with some above and many in between the stakes listed here.
So there are limits for everyone; no matter if you're new to the game and only have $10 or so to play with, or if you're a seasoned pro making a living from playing online poker (yes, there are people out there that do this).
Start playing for real money at Party Poker now
Go back to the Texas Hold'em rooms.