This is an archived page. The information is probably out of date, but I've left it here in case you find it useful for something.
Poker Pwnage Review

Overall Rating: 7/10

6max:

1/10

FR:

1/10

MTT:

9/10

SNG:

2/10

Other:

1/10

Stakes:

Mostly small stakes of $50 buy-ins or less.

Notable Pros:

Sketchy1, rdcrsn, HerschelW

Downloadable Videos:

No.

Price:

$24.99 / month + $35 activation fee. (fee waived if you pay for 6 months or more).

Website:

www.PokerPwange.com
Visit the Poker Pwnage website
Poker Pwnage samples.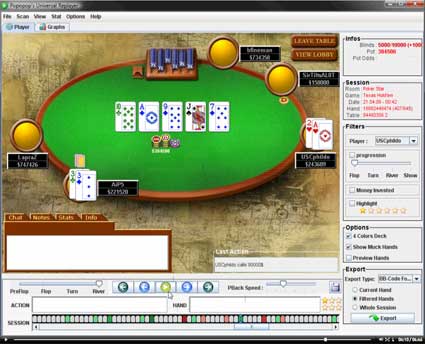 Poker Pwnage has a bunch of sample videos on their website for you to check out before you sign up. Visit the website and click on the "Preview" tab to see the samples.
What Poker Pwnage is best at.
A wealth of MTT training videos. MTT training is Poker Pwnage's specialty.
Poker Pwnage is pretty much exclusively an MTT training site, so all of the coaches' efforts go in to providing high quality MTT strategy for MTT players. If MTTS are your thing (and pretty much your only game of choice), Poker Pwnage is obviously a highly recommended training site.
What Poker Pwnage isn't great at.
Virtually nothing for cash game and SNG players.
Very basic website design can make videos hard to find.
Just as Bluefire Poker only focuses on cash game players, Poker Pwnage is the opposite in that it caters to the MTT crowd almost exclusively. Therefore, do not sign up to PokerPwnage if you play anything other than MTTs. Try Deuces Cracked instead.
The website construction is clearly very basic. There are far fewer options for sorting the videos, which means it can become tricky to find a specific video author whilst avoiding strategy videos that you have already seen before. However, do not let this be a reflection of the quality of the videos as a whole, as these guys are poker players at the end of the day, not website designers.
Final thought on Poker Pwnage.
Seeing as Poker Pwnage is more or less exclusively an MTT training site, the big question is - PokerSavvy Plus or Poker Pwnage? It's a close call as the quality of the strategy videos at both sites is very high. However, due to the fact that PokerSavvy Plus has a much better website design in addition to their high quality MTT training videos I would choose PokerSavvy Plus.
PokerSavvy also has no activation fee, so there's a lot more value for money if cost is an issue.