This is an archived page. The information is probably out of date, but I've left it here in case you find it useful for something.
Are Poker Training Sites Worth The Money?
YES.
Definitely. That even includes those of you that are grinding it out in the micro stakes games of $2NL and $5NL and are worried about value for money. If you're playing above these stakes, then you have absolutely no excuse. Allow me to explain why...
You win so much more over the long run thanks to the training.
The $30 or so you spend each month could very well lead to you winning thousands more than you would ever have won without the expert training. So, $30 vs. $1,000+... sounds like a good trade to me.
You move up and win more money more quickly.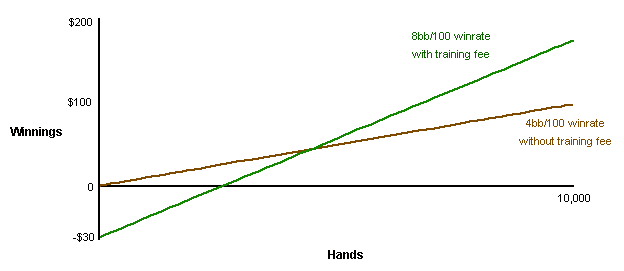 As this diagram shows, even at the $25NL stakes you still stand to earn more after paying for your $30 subscription at the start of the month. If you just play 10,000 hands a month and increase your winrate from 4bb/100 to 8bb/100 (which is entirely possible) you will have easily made a significant increase in overall earnings.
If you're a micro stakes player, would you rather spend the next 6 months grinding it out at $2NL or move up to $25NL and higher in that same time frame? $30 is like half a night out once a month that you can easily draft in to your pokering business.
Similarly, would you rather spend another 5 months at $50NL and save less than a buy-in a month, or get some training and move up to the $100NL or $200NL stakes at the end of those 5 months? It really doesn't make sense to hold yourself back to save a relatively small amount in the grand scheme of poker.
With good strategy your winnings will be exponential. Without it you will be stuck in a grind.
The training sites are way better than you think.
99.9% of training site subscribers are incredibly impressed with the quality of the videos and the speed at which their game improves. I have never bumped in to anyone that ever felt the subscription fee wasn't worth every penny.
Let's face it, the only reason you're unsure about sending a small $30 a month to a training site is because you're unsure about how helpful the videos will be. That's totally understandable, and I was in the same position myself when I first got started.
But trust me on this one, the wisest decision you will ever make for your poker career will be taking this small leap of faith. You won't regret it.
Take my word for it.
I really do not know what else to add to get my point across any more than I already have. It's not going to bother me if you sign up or not, in fact it will be one less good player for me to worry about if you don't! At the end of the day, exactly how well you perform in poker over your time spent playing is totally in your hands, and training is a superb tool that has been made available to you.
Get your free 7-day trial at Deuces Cracked and see what you think. Honestly, what is the worst that can happen?
Go back to poker training.