This is an archived page. The information is probably out of date, but I've left it here in case you find it useful for something.
Windows 7 Poker Sites

The 10 best Windows 7 poker rooms.
Note: These poker sites will also work perfectly on Windows Vista and Windows XP.
What makes a good poker site for Windows 7?
There are 4 main things I look for when playing online poker on Windows 7:
High quality software.

A good poker site's software should be silky smooth and have an impressive set of features (e.g. 4-color deck, fluid resizeable-windows, note-taking option).

Fast loading time.

It's all about speed these days. When I start up my PC I don't want to have to wait ages for the poker client to sort itself out. The sooner it's up and running and ready for me to start playing some hands the better.

No bugs or errors.

Glitches and stuff like that are rare in online poker software, but it's always something to keep an eye on. As a frequent online poker player you can run in to the occasional bug here and there.

Sexy graphics.

I know it's a superficial quality to look for, but I'm not ashamed to admit I like to play at a stylish poker room. I also make no apologies for using the word "sexy" to describe something technology-based either.
After keeping these 4 factors in mind, I came up with the shortlist of the best poker rooms to play at on the Windows7 OS. You can see my final rankings in the table above.
It's a hard job testing out online poker sites to see which ones are the best, but somebody has got to do it. I've also done the same thing for Ubuntu poker sites and Mac poker sites too.
Note: Playing for or free (fun play) and for real money.
All of these Windows 7 poker sites offer the option to play for free (with play money chips) or for real money.
Just create an account and you can immediately jump in to the free money tables and play for fun. Or, if you prefer a little more excitement, you can make a deposit and test your skills at the real money tables. Check out my top beginner tips if you're just getting started playing poker for actual money.
What about the different Windows7 editions?
All of these downloadable poker rooms have all the same features and work in exactly the same way no mater what edition of Windows 7 you are running. So that includes: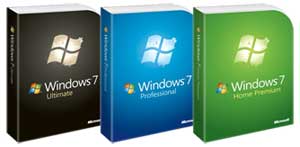 Windows 7 Starter
Windows 7 Home Basic
Windows 7 Home Premium
Windows 7 Enterprise
Windows 7 Ultimate
So even if you're running the Windows 7 Starter version (this has the fewest features out of all of them) you will be totally fine with the poker rooms above.
With all these rooms you'll be able to play poker online like any other Windows 7 user, no matter if you're using the Starter or Ultimate edition.
Are these poker rooms safe to install on my PC?
Yes. I've installed more poker rooms on my PC than I can count, and I've had absolutely no problems whatsoever.
For some strange reason people can have a slightly negative view of online poker software. This makes no sense though, as the more people downloading and installing a site's software the better, so the last thing they want to do is deter people from using it.
Poker sites are striving to make their software simple, safe, fast and reliable. I'd personally feel more comfortable downloading a poker room from a big name company on the list above, rather than something innocent like a text editor from a small company I hadn't heard of before.
A quick poker room install guide.
If you've had your Windows7 PC for more than 5 minutes you shouldn't have any trouble downloading and installing a poker room. Still, there's no harm in doing a quick guide just to show you how easy it is:
Note: In this example I'm using the Party Poker software. If you decide to play at any other poker room on the list, the process will be almost exactly the same.
Step 1) Download the software.
Visit the poker site you want to play at and click on the link/button to download the software. These are always placed in ridiculously obvious places, so you won't have any trouble finding it.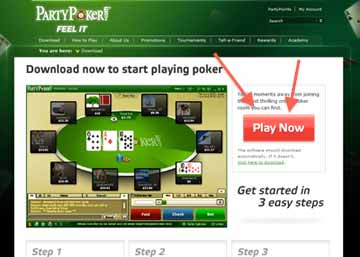 Before the software downloads you have the option to either "Run" or "Save" the client after it has downloaded. The easiest option is to click "Run", which saves you having to find the file and double-click it to get going. Plus, if you're anything like me you'll end up forgetting where you saved the file anyway.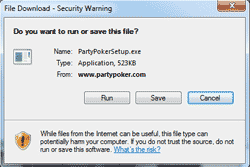 If you decide to save the file, it will more than likely be in your downloads folder or on your desktop. If it's in neither of those places and you have no idea where it could be, you can always just re-download the program and make sure to keep an on where you're saving it next time.
Tip: If you're not a big fan of downloading a poker room on to your computer, why not try the no download poker alternatives instead?
Step 2) Install the software.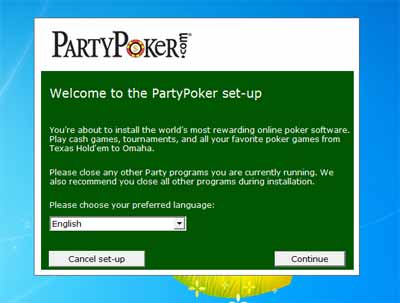 After loading up the install file you will be greeted with an installation screen. This is the part where you just keep clicking "next", "okay" or "continue" until the poker room starts to install itself.
You may be asked a few options about where you want to file to go and a few other custom things, but for most people the default settings are perfect, so roll with it. Once you've finally got to the end of the wizard, the installation will get under way...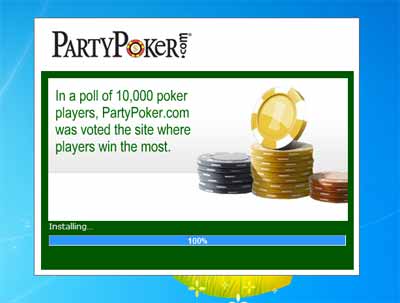 Step 3) Create your account and you're done.
That's it. You've successfully installed a poker room on your Windows 7 PC. I think that deserves a celebratory cup of tea and a few hands of poker.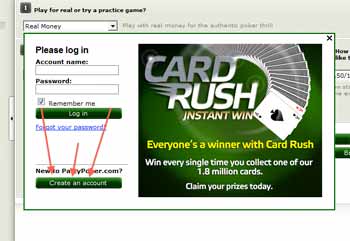 You'll obviously have to create your account first, but that's a piece of cake. Just fill in your desired username and a few other standard fields and you're good to go.
I'm starting to wonder whether I needed to make this walk through in the first place.
Any other tips?
Feel free to give these poker rooms a good test drive. They're all free to download, so try them out and stick with the one you like the most. Windows 7 is a clever operating system, so installing a bunch of poker rooms isn't going to slow it down one bit.
The only limitation some users may have is if you're a US citizen. If that's the case, you will only be able to play at poker sites that accept US players. So to help you make the right choices, I added little US flags to the US friendly rooms in the rankings table at the top of the page.
Other than that, have fun and enjoy yourself.
Go back to the Texas Hold'em rooms.