This is an old review.

Nitrogen Poker is still running, but it's no longer a part of my list of recommended poker rooms. This page hasn't been updated in a while, so take what you read with a pinch of historical salt.
Nitrogen Poker Review 2023
Name:

Nitrogen Poker

Website:

nitrogensports.eu

Established:

2012

Network:

Independent

License:

Costa Rica

Available On:

HTML5

Traffic:

Awful

Competition:

Weak

Rating:

B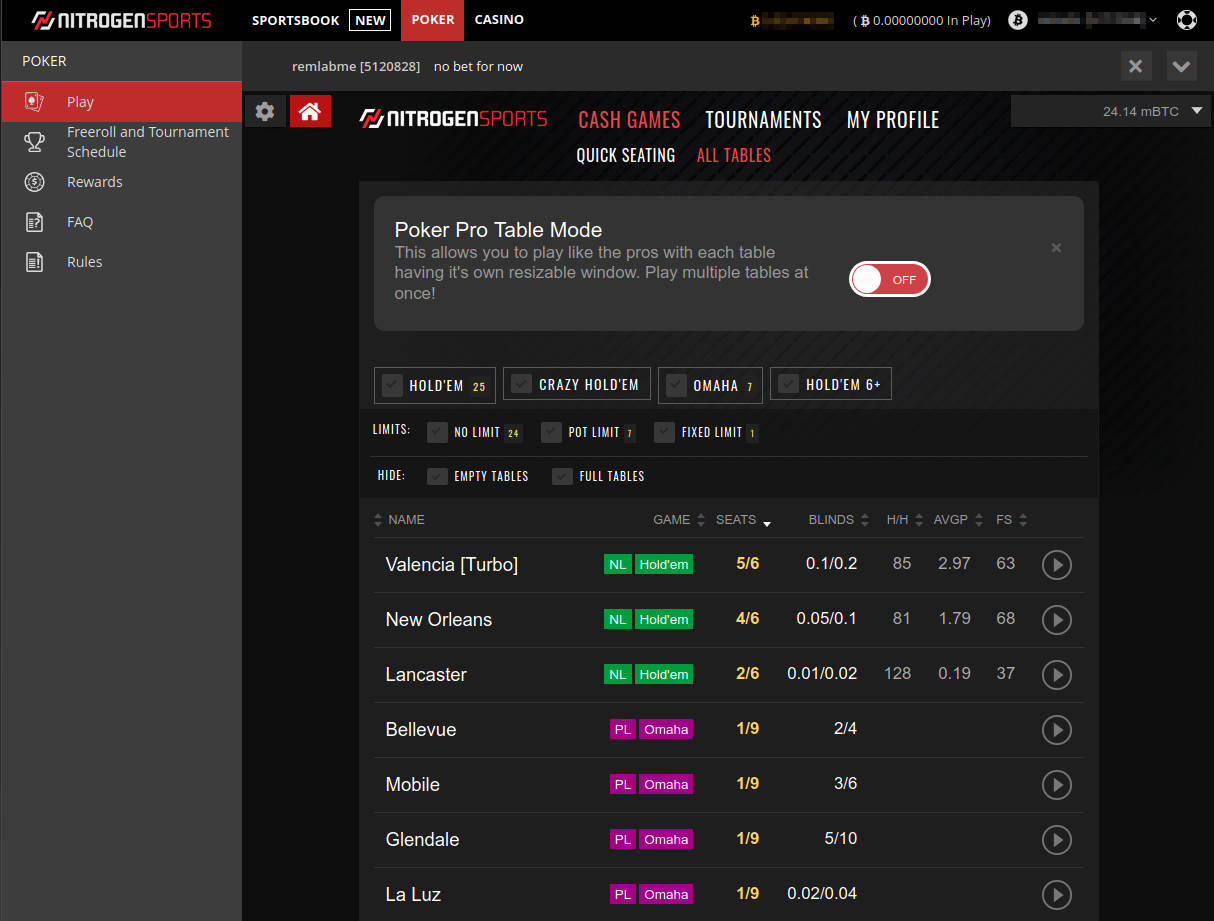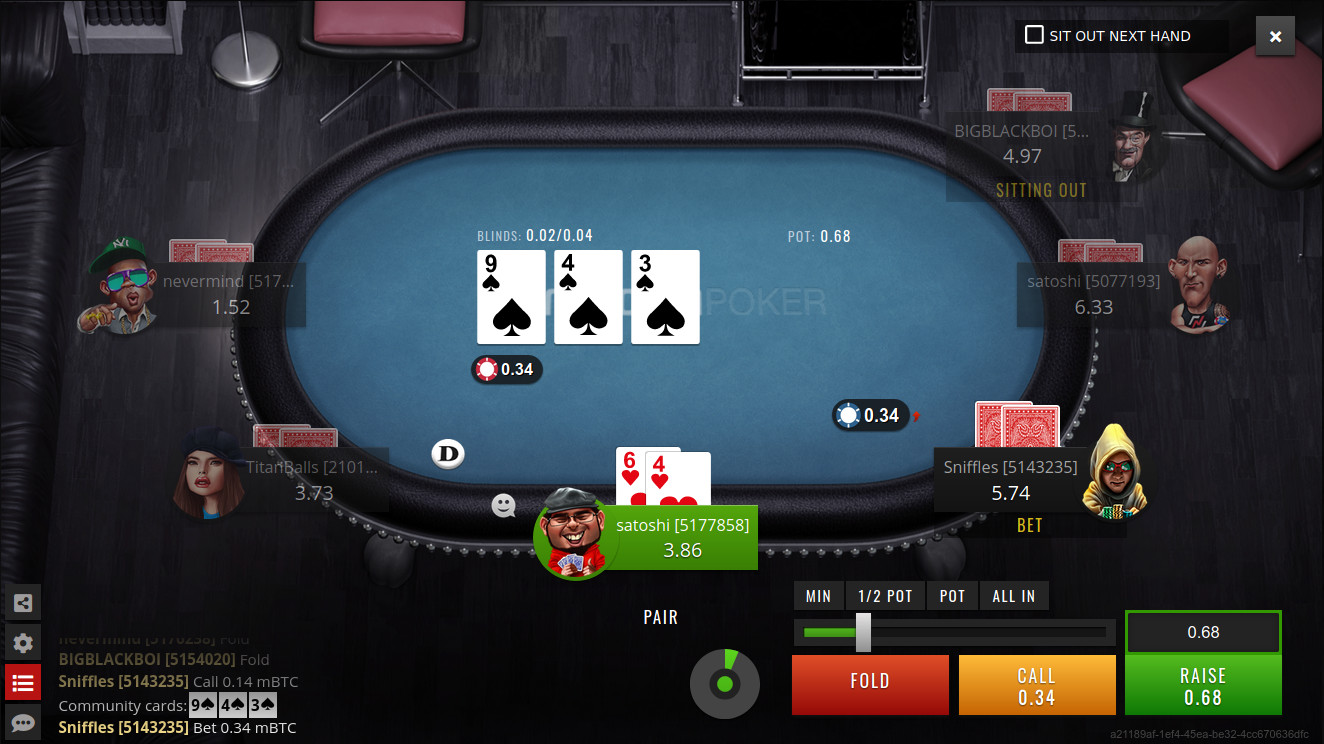 Nitrogen Poker is an established bitcoin-only sportsbook, which also plays host to a poker room with a tiny recreational player pool. There's nowhere near enough traffic here to make this site your daily driver, but the terrible players make it worth popping in from time to time to get a piece of the soft action.
You need bitcoin to be able to deposit and play, but this comes with the benefits of the flexibility and anonymity that dedicated bitcoin poker sites have to offer. I wouldn't keep your entire roll here, but with deposit times of around 10 minutes it's easy to get your money in and out if you need to.
As I say, Nitrogen Sports isn't going to be your main destination for playing online poker (at the moment), but it's a good one to have in your portfolio. Sometimes you've got to search around to find the juiciest games.
No ID is required to play at Nitrogen Poker. You can create an account and start playing within 10 minutes.
Which countries do they accept players from?
Accepted Countries
Afghanistan
Aland Islands
Albania
Algeria
American Samoa
Andorra
Angola
Anguilla
Antarctica
Antigua and Barbuda
Argentina
Armenia
Aruba
Australia
Austria
Azerbaijan
Bahamas
Bahrain
Bangladesh
Barbados
Belarus
Belgium
Belize
Benin
Bermuda
Bhutan
Bolivia
Bonaire, Saint Eustatius and Saba
Bosnia and Herzegovina
Botswana
Bouvet Island
British Indian Ocean Territory
British Virgin Islands
Brunei
Bulgaria
Burkina Faso
Burundi
Cambodia
Cameroon
Canada
Cape Verde
Cayman Islands
Central African Republic
Chad
Chile
Christmas Island
Cocos Islands
Colombia
Comoros
Congo
Congo (Democratic Republic of the)
Cook Islands
Croatia
Cuba
Curacao
Cyprus
Czech Republic
Denmark
Djibouti
Dominica
Dominican Republic
East Timor
Ecuador
Egypt
El Salvador
Equatorial Guinea
Eritrea
Estonia
Ethiopia
Falkland Islands
Faroe Islands
Fiji
Finland
France
French Guiana
French Polynesia
French Southern Territories
Gabon
Gambia
Georgia
Germany
Ghana
Gibraltar
Greece
Greenland
Grenada
Guadeloupe
Guam
Guatemala
Guernsey
Guinea
Guinea-Bissau
Guyana
Haiti
Heard Island and McDonald Islands
Honduras
Hong Kong
Hungary
Iceland
India
Indonesia
Iran
Iraq
Ireland
Isle of Man
Israel
Italy
Ivory Coast
Jamaica
Japan
Jersey
Jordan
Kazakhstan
Kenya
Kiribati
Kosovo
Kuwait
Kyrgyzstan
Laos
Latvia
Lebanon
Lesotho
Liberia
Libya
Liechtenstein
Lithuania
Luxembourg
Macao
Macedonia
Madagascar
Malawi
Malaysia
Maldives
Mali
Malta
Marshall Islands
Martinique
Mauritania
Mauritius
Mayotte
Mexico
Micronesia
Moldova
Monaco
Mongolia
Montenegro
Montserrat
Morocco
Mozambique
Myanmar
Namibia
Nauru
Nepal
Netherlands
New Caledonia
New Zealand
Nicaragua
Niger
Nigeria
Niue
Norfolk Island
North Korea
Northern Mariana Islands
Norway
Oman
Pakistan
Palau
Palestinian Territory
Panama
Papua New Guinea
Paraguay
Peru
Philippines
Pitcairn
Poland
Portugal
Puerto Rico
Qatar
Reunion
Romania
Rwanda
Saint Barthelemy
Saint Helena
Saint Kitts and Nevis
Saint Lucia
Saint Martin
Saint Pierre and Miquelon
Saint Vincent and the Grenadines
Samoa
San Marino
Sao Tome and Principe
Saudi Arabia
Senegal
Serbia
Seychelles
Sierra Leone
Singapore
Sint Maarten
Slovakia
Slovenia
Solomon Islands
Somalia
South Africa
South Georgia and the South Sandwich Islands
South Korea
South Sudan
Spain
Sri Lanka
Sudan
Suriname
Svalbard and Jan Mayen
Swaziland
Sweden
Switzerland
Syria
Taiwan
Tajikistan
Tanzania
Thailand
Togo
Tokelau
Tonga
Trinidad and Tobago
Tunisia
Turkey
Turkmenistan
Turks and Caicos Islands
Tuvalu
U.S. Virgin Islands
Uganda
Ukraine
United Arab Emirates
United States
United States Minor Outlying Islands
Uruguay
Uzbekistan
Vanuatu
Vatican
Venezuela
Vietnam
Wallis and Futuna
Western Sahara
Yemen
Zambia
Zimbabwe
Which states do they accept players from?
Accepted States
Alabama
Alaska
American Samoa
Arizona
Arkansas
California
Colorado
Connecticut
Delaware
District Of Columbia
Federated States Of Micronesia
Florida
Georgia
Guam
Hawaii
Idaho
Illinois
Indiana
Iowa
Kansas
Kentucky
Louisiana
Maine
Marshall Islands
Maryland
Massachusetts
Michigan
Minnesota
Mississippi
Missouri
Montana
Nebraska
Nevada
New Hampshire
New Jersey
New Mexico
New York
North Carolina
North Dakota
Northern Mariana Islands
Ohio
Oklahoma
Oregon
Palau
Pennsylvania
Puerto Rico
Rhode Island
South Carolina
South Dakota
Tennessee
Texas
Utah
Vermont
Virgin Islands
Virginia
Washington
West Virginia
Wisconsin
Wyoming
What's the company like?
Nitrogen Sports is primarily a bitcoin-only sportsbook, having been around since 2012 and launching their poker room in 2014, so that makes them one of the oldest and most battle-hardened operators in the field. I've had an account here since 2015 and it's still going strong. I've only ever kept a small balance with them over the years, but my overall experience is a good one and I trust them.
Support has always been responsive from my experience. All my support tickets have been answered within the hour, and the people I've spoken to have been friendly and know what they're talking about.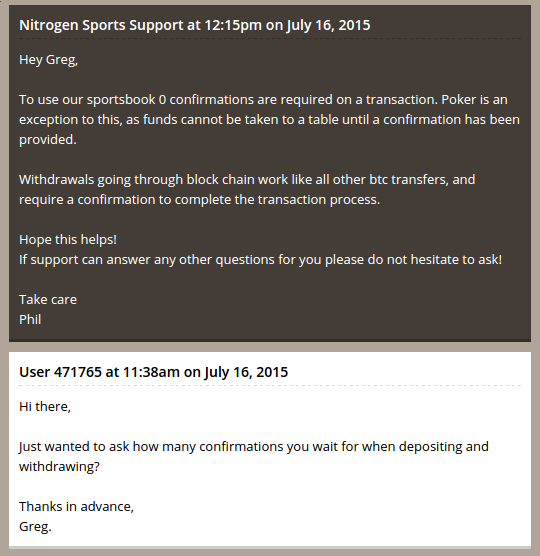 I don't know anything about the actual company itself or who runs it, but that's just pretty standard for any online gambling operator with a global reach these days, especially a bitcoin site. All you can do is judge them on their track record, and Nitrogen's is fine so far.
The company in general doesn't have the same kind of personality as the likes of SwC Poker, so it's hard to feel a personal connection to the site. It's all polished and well-run, but then also a bit faceless at the same time. I've never had a problem with payouts though, and I'd take reliable payouts over a quirky presentation, but it would be nice if they felt more relatable.
What's the traffic like?
I'm not going to lie, it's pretty bad.
There's usually a game running. And if things are really booming then you might have four active tables to choose from.
The games run in the equivalent region of $10NL to $200NL (denominated in BTC though of course), and you basically get what you're given when you log in. There's no need to sort the lobby to find the ideal table; just choose from the limited selection on offer.
If you're lucky there will be a game running at your preferred stakes, but don't count on it.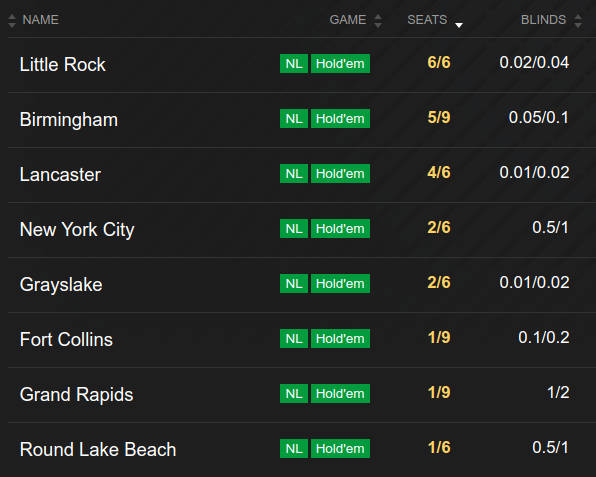 If you're open-minded about which stakes you play and you've got the bankroll to move between them, then Nitrogen isn't so bad and you can get a game at any time of the day. But if you're exercising strict bankroll management and committed to playing at a certain level (good choice), then Nitrogen is going to be hit and miss, but mostly miss. Stick to a high-traffic site like Ignition or ACR instead.
I like Nitrogen as a poker room and the overall prospect of independent bitcoin-only poker sites, so it would be cool if player numbers improve over time. But at the moment you just have to make do with what's on offer.
What are the players like?
Highly recreational. There's some easy money being thrown around at Nitrogen.
The traffic is low and it's a slightly obscure bitcoin-only poker site, so it's off the radar for most regular players. However, there are active tables here, and they seem to be populated by recreational gamblers who are looking for something to do outside of Nitrogen's sportsbook, as well as crypto enthusiasts looking to do something with their coins instead of just letting them sit in their wallet.
It's easily one of the softer destinations I've experienced in modern online poker. You'll often find tables with players with obscure <100bb stack sizes (regs always buy-in for the maximum), and players randomly making min-raises just for the sake of raising (min-raising is rarely a good choice for a bet size, at least 3-4 times the original bet is better). So immediately you can tell you're in some "just playing for fun" territory.
You're going to need to put up with low traffic levels and take whatever games are on offer of course, but the games that do run are generally soft. It's worth having an account handy to check in every now and then to see how the tables are looking.
What's the software like?
It's good. It's made by a Swedish company called Cubeia, and Nitrogen has integrated it nicely to create an independent poker room in addition to their sportsbook.
The software is written entirely in HTML5 and Javascript, so it runs in any browser. This has the downside of not being quite as performant as a native desktop client for multi-tabling power users, but that's not a problem at Nitrogen, as you're lucky to see more than a couple of active tables at the same time anyway.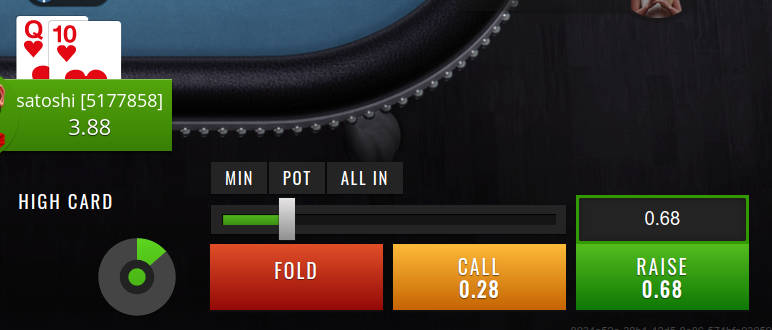 In fairness the HTML5 poker software is sublime, and it's a testament to how far web technology has come. It runs smoothly, looks good, and has all the features of the best downloadable clients, so I have no complaints. I still have an affinity for desktop clients, but this is about as good as browser-based poker sites get.
The mobile version is particularly impressive. It works in both portrait and landscape, and is no problem to use.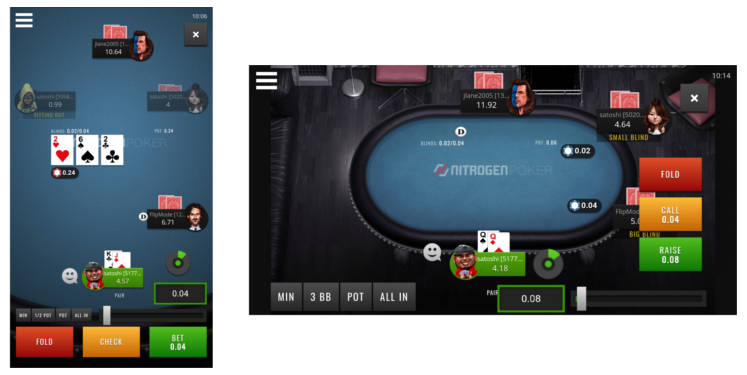 A few more notes about the software:
Auto Rebuy only kicks in when you drop below 95 big blinds. I'm not sure why, but when playing cash you can only top up your stack when you drop below 95 big blinds. It's not a huge deal, but I like to have the maximum amount in front of me at all times when playing cash, and those extra 5bb are valuable when I'm getting it in with the best hand.
Multi-tabling works best with new windows. You can try the default tiling of windows or having them in tabs, but the best setup is to enable the "open tables in a new window" feature in the settings. It's always better to configure the layout of tables to your preferences where you can.
Four color deck. If you're new to online poker, just a quick reminder that the four-color deck option is your friend. You're never too good at poker to misread a club for a spade or a diamond for a heart. Having

clubs in green

and

diamonds in blue

is +EV for your game.
What are the deposit and withdrawal options?
How does bitcoin sound?
Deposits are virtually instant, and you only need to wait for 1 confirmation before you can start playing at the poker tables for real money.

Withdrawals are processed within 2 hours. My only gripe is that you need to enable 2FA (i.e. Google Authenticator on your mobile) before you can make a withdrawal, which is cool for security, but also annoying. I think these things should be an option and not a requirement, but I can understand why it would be introduced (support tickets from players losing funds due to poor security probably get less fun over time).
Nonetheless, make sure you have a backup plan in place in case you drop your 2FA device down the drain — If you lose your 2FA, you'll be locked out of your account.
BTC and mBTC.
Nitrogen Poker recently switched to using mBTC as the main denomination at the poker tables, which is equivalent to 0.001 BTC (one thousandth of a bitcoin).
1 BTC     = 1.00000000 BTC
1 mBTC    = 0.00100000 BTC
1 uBTC    = 0.00000100 BTC
1 Satoshi = 0.00000001 BTC

This is likely to try and help reduce the number of decimal places you are working with when playing at the table, but initially it's more confusing than helpful.
So as a quick tip, use a Bitcoin price converter when you're getting started. You don't want to end up blowing your entire bankroll in one session due to a miscalculation of conversion rates.
Conclusion.
Nitrogen Poker makes for an interesting option as part of your online poker accounts portfolio. It hasn't got the action to make it your first choice, but it's worth dropping by from time to time for a game. The high volume of recreational players makes it worth the effort.
In terms of playing online poker with bitcoin, SwC Poker will always be my first choice, but I can't ignore that there are some good games going on at Nitrogen.
They've been around since 2012, so they know what they're doing. If nothing else, they're one of the most established bitcoin sportsbooks, so even if you don't frequent the poker room too often, you'll like the freedom of their fast-loading and anonymous sportsbook. It's my bookmaker of choice when a big boxing match is on.
I'm not going to keep my entire roll here, but it's good to be aware that Nitrogen Poker exists.
Go back to the Texas Hold'em rooms.