Making A Deposit At An Online Poker Room
As a new online poker player, I was very apprehensive about depositing money into my account. The thought of sending my money over the Internet into a gambling site just seemed like a risky idea at the time.
However, after careful deliberation I decided to make a small deposit into one of the major poker rooms on the web. The transfer of money was incredibly fast and easy, and I felt like a pro after my first deposit.
The online poker rooms and casinos know that many first time depositors will be a little concerned about parting with their money. It is for this reason that these sites go out of their way to make it easy to deposit and make sure that your money is always safe in their hands.
Visit PokerStars and try making your first deposit for real money.
Popular poker room deposit options.
So now you know about the reliability of the poker rooms, what methods are available for you to deposit money?
Online wallets.
Credit/debit cards.
Wire transfer.
Online wallets (eWallets).
Online wallets are pretty much exactly what their name suggests. These online wallets allow you to deposit money into them from your bank, which can then be moved to the poker rooms and vice versa.
The best way to think of an online wallet is to see them as a place where your poker money can be kept and easily sent back and forth from the wallet to the site.
Online wallets also are useful for keeping your bankroll separate from other money, and can be used to send money to other areas other than casinos and poker rooms. The most popular Online Wallets today are Neteller and Skrill.
Credit/debit card.
Money can be sent to and from your bank to the poker room using credit or debit cards. Depositing money is almost immediate, whereas withdrawals will usually take 2/3 working days. This is one of the most popular ways of depositing along with using online wallets due to their speed and efficiency. Most online rooms accept a wide variety of different credit and debit cards so you will not be stuck if you own one of the less popular cards.
Wire transfer.
A wire transfer is a direct transfer of money from your bank account to the online poker room's bank account. These transfers have to be set up between the bank accounts before you can start sending money. The transfers are immediate, but a small fee has to be paid for each transfer that is made. This type of deposit option is more suited to the higher stakes players who make large deposits and withdrawals.
Other deposit options.
There are a few other deposit methods but these are the most commonly used by online poker players. If you are new to online poker it is recommended that you use either a debit/credit card or an eWallet to fund your account. This because you will not have to pay any fees, and after making your first deposit you will be able to play immediately.
Making a deposit at an online poker room example.
To highlight the simplicity and speed of funding your online poker, I will show you how you can make a deposit onto PokerStars using the popular eWallet, Neteller.
Step 1 - Log in and enter the cashier.
After logging onto the poker room, click on the 'cashier' button.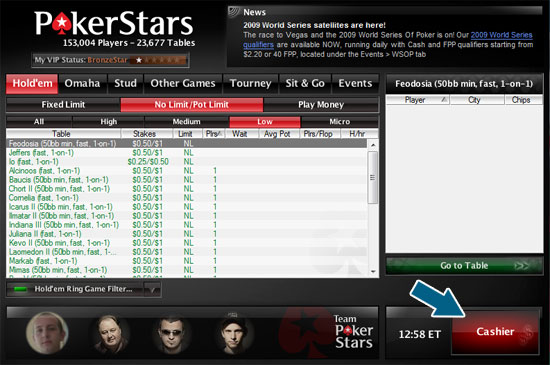 Step 2 - Click to make a deposit or add funds.
A new window will then appear offering you different banking options. From here I will click on the 'Buy Chips' button. (On other rooms we will be given a 'deposit' option, which is the same thing).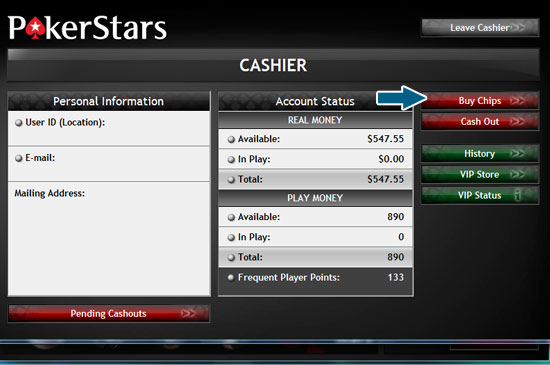 Step 3 - Choose your deposit option.
We now have a number of deposit options available to us. Because I want to make a deposit with neteller, I will click on that button and then click 'deposit'.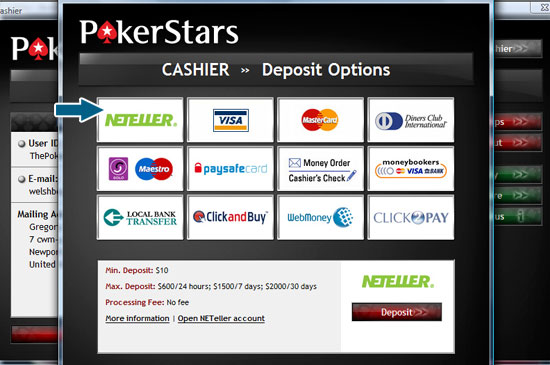 Step 4 - Enter deposit option details and submit.
From here I simply need to enter my account details and the amount I want to deposit, and then click 'submit'.
That's all there is to it.
Making a deposit overview.
As you can see, this process is very simple and took me less than a minute to complete. Hopefully this little tutorial has helped you realize how easy and safe it is to fund your online poker account.
The poker rooms and other banking companies all have customer service departments to address and resolve and concerns or problems you might have. This particular demonstration was on the PokerStars cashier, which this cashier in particular makes it very easy to make your first deposit and future deposits.
Visit PokerStars and try making your first deposit for real money.
Other new online player articles:
Go back to the interesting Texas Hold'em Articles.
Can You Afford Not To Use
Poker Tracker 4?

"I wouldn't play another session of online poker without it"
"I play $25NL, and in under 1 week PT4 had paid for itself"
Comments