Betfair Poker Rakeback
As of 12th of July 2010, Betfair no longer offers rakeback to new players. Sorry.

Betfair will soon be moving to the OnGame network, which is the reason why the rakeback deal has stopped. I'd highly recommend that you check out Full Tilt rakeback or Ultimate Bet rakeback instead.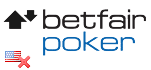 40% BIWEEKLY RAKEBACK
+ 100% UP TO $1,500 BONUS
Betfair Poker rakeback summary.
Rakeback:

40% maximum. 30% at start.

Calculation:

Contributed

.

Bonus:

100% up to $1,500. Bonus is

deducted

from rakeback calculations.

Network:

Independent.

Tournament fees:

Both MTT and SNG fees included in Betfair rakeback.

HEM/PT:

Compatible HEM only.

Payments:

Biweekly - Payments every 1st and 3rd Thursday of the month.
The Betfair 30% up to 40% rakeback is a good deal that is reliable and pays more frequently (every 2 weeks) than the average rakeback payment schedule. Betfair is not open to US players, so players from the US should try the Full Tilt rakeback or UB Poker rakeback deals instead.
Betfair has it's own unique software and is not part of a larger network like the Cake or Merge poker networks. However, this means that the room receives less traffic than most, which means that it is not an ideal room if you are playing out of the more popular stakes and limits.
More Betfair rakeback information.
Rakeback deal.

40%

The Betfair rakeback deal starts at the maximum of 30% for new players and can increase up to 40% depending on how much you play and how many VIP points you earn.

| VIP Points | Rake / month | Rakeback |
| --- | --- | --- |
| 0 - 39,999 | £0 - £1,499 | 30% |
| 40,000 - 59,999 | £1,500 - £2,999 | 40% |
| 60,000 - 89,999 | £3,000 - £4,499 | 40% |
| 90,000 - 119,999 | £4,500 - £5,999 | 40% |
| 120,000 - 199,999 | £6,000 - £9,999 | 40% |
| 200,000 - 299,999 | £10,000 - £14,999 | 40% |
| 3000,000+ | £15,000+ | 40% |

players who regularly multi-table (4 tables, 25+ hours a week) at the $2.50/$5 NL Hold'em tables should be able to make it in to the 40% rakeback tier. The minimum requirements to get 40% Betfair rakeback are quite high, so you can only expect to reach this level if you are a regular high stakes player.

Most players will find themselves earning rakeback at Betfair at 30%.

The sliding scale for Betfair rakeback is very similar to that of the Tower Poker valueback deal.

Betfair rakeback calculation.

Betfair Poker uses the contributed rakeback calculation method, which means that rakeback is calculated from the rake taken from the money that you put it in to the pot only. This is the most common form of rakeback calculation.

So for example, if you were playing in a $100 NL Hold'em game at Betfair and you had put $20 in to the final pot amount, an average of 5% rake would be taken from that $20 ($1) and you would receive 30% of that $1 rake, which will equal 30c of rakeback from Betfair.

Because Betfair Poker uses the contributed rakeback calculation method, you will not generate rakeback from pots that you do not participate in.

Betfair rakeback payments.

Betfair pays rakeback biweekly on the 1st and 3rd Thursday of every month. These rakeback payments are for your last 2 weeks of play.

Therefore if the 1st day of the month is a Monday, you can expect t receive Betfair rakeback payments on Thursday the 4th and 18th of the month. The earliest possible payment can be on the 1st of the month and the latest possible payment can be on 21st.

Betfair bonus and rakeback.

Betfair deducts bonus money from your MGR before calculating your 30% or 40% Betfair rakeback payment.

Bonus deductions are standard in the world of rakeback, although you will still be earning more money with the bonus and rakeback combined even though your rakeback will be slightly less at the start.

So for example, lets say that you earn 800 Betfair points within a 2 week period, which equals $20 in bonus money. This will result in you having generated around $70 in MGR. Your 30% rakeback will be calculated from the $70 MGR minus the $20 bonus money, which leaves $50. You will then receive 30% of that net $50 MGR, which is $15 (in addition to your $20 bonus money, so $35 in total).

After the Betfair bonus has finished, you will then receive 30% (or whatever your rakeback % is depending on how much you play) of the full MGR amount with no deductions. So in the first example you will receive 30% of $70, which equals $21 in rakeback.
Can I get rakeback at Betfair if I already have an account?
It is not possible for you to receive rakeback at Betfair if you have already set up an account. Unfortunately, Betfair is also an independent room, which means that it is not possible to sign up to a similar poker room with the same software and player base.
If you would like to receive rakeback at Betfair but already have an account there, feel free to contact me and I will see which other rakeback deals will be most suitable for you.
Go back to the rakeback poker rooms.