Playing KK
Download MP4 video - 84.7MB (right click > save link as)
Table of Contents + Time Links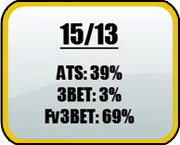 Playing KK.
Details.
Type: Hand Replayer
Stakes: $50NL
Game: Full Ring
Tables: -
Length: 00:34:26
Added: 20 September 2012
Video overview.
Another hand-specific strategy video from SplitSuit. This one is dedicated to playing KK preflop and postflop in NLHE. The action takes place on a Full Ring table (9 players), but as usual the majority of the concepts can easily be applied to 6max games.
SplitSuit answers common preflop questions when playing KK, such as:
Should we 3bet KK?
How should we react against 3bets?
Do we want to 4bet KK?
After the preflop discussion, there is obviously a bunch of postflop KK strategy:
What's the standard postflop strategy for playing KK? (Hand 3)
How do you get the most value after flopping a set with KK? (Hand 5)
SplitSuit has selected a fun set of hand histories that cover a wide range of SPRs, so the strategy and advice thoroughly covers all kind of flop scenarios.

Related pages.
About SplitSuit.
James "SplitSuit" Sweeney is author of Dynamic Full Ring Poker: Beyond The Basics. He also coaches at his personal website www.SplitSuit.com. He uses the alias *Split* at the 2+2 forums, which is where you can find his famous contributions to the COTW thread.
Go back to the immense Texas Hold'em strategy videos.
Comments