Inverse (Part 6) - Playing 99-JJ
INVERSE Part 1 : INVERSE Part 2 : INVERSE Part 3 : INVERSE Part 4 : INVERSE Part 5 : INVERSE Part 6
Download MP4 video - 84.8MB (right click > save link as)
Table of Contents + Time Links
Inverse Part 6 - Playing 99-JJ.
Details.
Type: INVERSE
Stakes: $100NL
Game: Full Ring
Tables: -
Length: 00:34:25
Added: 17 September 2012
Video overview.
This 6th INVERSE-style video focuses entirely on middle pairs from 99 to JJ. This is an INVERSE video, but it's primarily a guide to playing these tricky mid pocket pairs.
No idea what an INVERSE video is yet? Start with INVERSE 1 then.
Many of the examples involve dealing with aggression out of position with hands like 99 TT and JJ, such as facing preflop 3bets. This abundance of analysis is handy, as preflop situations like this are especially tricky with attractive-yet-awkward pocket pairs.
In addition to the awkward spots, there are also examples of maximizing value. For example, when you manage to flop a set (hand 6 - 23:51) or a full house (hand 7 - 28:10). Most of the post-flop play starts with flopping an overpair or better. Hand 2 (5:54) does has a flop with an overcard though.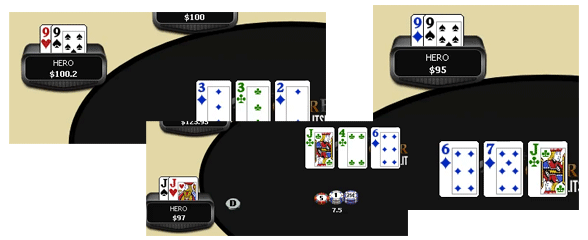 Highlights.
Hand 4

: Includes a discussion on facing a preflop shove for 32bb when holding TT.

Hand 5:

Split talks about the different kind of flop textures you'll encounter when playing 99-JJ (undercards, ones with overcards, flopping a set). Also a bit about letting go of an overpair because the rest of the hand would be too awkward, despite leaving yourself open to bluffs on the flop.
Like strategy videos on specific hands? Try Playing AA, Baby Pairs, INVERSE 4 (AJ) and INVERSE 5 (KQ)
About SplitSuit.
James "SplitSuit" Sweeney is author of Dynamic Full Ring Poker: Beyond The Basics. He also coaches at his personal website www.SplitSuit.com. He uses the alias *Split* at the 2+2 forums, which is where you can find his famous contributions to the COTW thread.
Go back to the immense Texas Hold'em strategy videos.
Comments