Multi-Way Cbetting
Download MP4 video - 80.7MB (right click > save link as)
Table of Contents + Time Links
Multi-Way Cbetting.
Details.
Type: Hand Replayer
Stakes: -
Game: Full Ring
Tables: -
Length: 00:35:17
Added: 18 September 2012
Video overview.
When and how to continuation bet when up against 2 or more players on the flop. Cbetting has a different dynamic when more than one opponent is involved, so you need to know how to deal with it. SplitSuit covers 11 hand histories where this happens and have we have to deal with these "multi-way cbetting" situations.
SplitSuit starts with some common multi-way cbetting spots, and moves on to some trickier ones later on in the video. All of the analysis extends across the turn and the river – it does not end with the flop cbet strategy.
The majority of the hand examples involve cbetting against 2 opponents. Furthermore, in these examples we are usually sandwiched between these two players. By "sandwiched" I mean we are the 2nd player to act (so not first or last to act).
In addition to the standard preflop situations, Hand 7 (18:21) and Hand 8 (21:39) include 3betting action before the flop.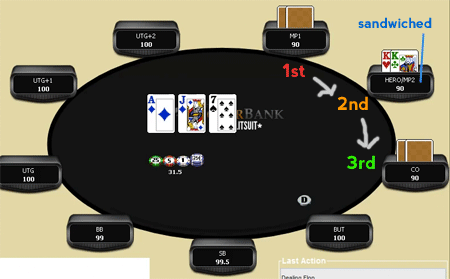 Related pages.
About SplitSuit.
James "SplitSuit" Sweeney is author of Dynamic Full Ring Poker: Beyond The Basics. He also coaches at his personal website www.SplitSuit.com. He uses the alias *Split* at the 2+2 forums, which is where you can find his famous contributions to the COTW thread.
Go back to the immense Texas Hold'em strategy videos.
Comments