This is an archived page. The information is probably out of date, but I've left it here in case you find it useful for something.
Rakeback Mistakes
For a guide to strategical mistakes in poker, check out this video on Common Mistakes by SplitSuit.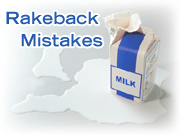 Rakeback is great for helping you to save money and add that little extra to your bankroll at the end of the month. In fact, it's pretty damn handy.
Just make sure that you do not make these all too common rakeback mistakes when it comes to earning money through rake rebates.
Playing at a

worse room

just to get rakeback.
Playing at

too many tables

just to get more hands in.
Playing

too many hands

in an attempt to build rakeback.
Believing that rakeback is not valuable at micro stakes games.
Forgetting that

rakeback isn't everything

.
1) Playing at a worse room just to get rakeback.
Don't force yourself to play at a room just for the rakeback deal. Rakeback is just a bonus at the end of the day, it's not meant to be the sole reason behind why you play at a certain room.
If we're being honest, PokerStars has much better software and player traffic than Cake Poker. That's not to say Cake is a bad room, it's just the way it is. If you really hate the software at one room and playing there is a frustration for you, just pack up your bankroll and head to a room that you really enjoy playing at.
Always try your best to be objective when it comes to weighing up whether the rakeback at a poker room makes up for other factors that might be lacking, such as; level of competition, player traffic and the software. If the sacrifice isn't worth the rakeback then be happy in your decision to play at a different room.
Full Tilt is an exception.
Full Tilt is a great room overall with it's high-end software and very high player traffic. If you get rakeback at Full Tilt then you are pretty much sorted in terms of playing at a great online room + rakeback.
I guess this point is for those of you that already have accounts at Full Tilt and are unable to get rakeback there. Just be careful not to settle for a room you dislike when looking for a Full Tilt rakeback alternative. I would recommend Aced Poker and Cake Poker as the best alternatives for rakeback.
Get rakeback at Full Tilt now and start playing at the top rakeback online poker room.
2) Playing at too many tables just to get more hands in.
Do not slash your win rate by playing at more tables than you are comfortable playing at just to increase the amount of hands you are getting in every hour.
Whenever you play poker, your primary aim is to win as much money as possible from the other players at the table. You don't play poker to add to your rakeback pot.
It's definitely nice to build up big rakeback payments, but make sure you are doing so naturally. Don't force yourself to play out of your comfort zone to add that little extra to your rakeback earnings.
3) Playing too many hands in an attempt to build rakeback.
This is a very similar point to the one above, but for this one the mistake is forcing yourself to play more hours in a day or longer sessions than you can handle just to increase those rakeback figures.
If you play out of your comfort zone or at times when you are not 100% focused on playing you are putting yourself at a much greater risk of going on tilt or just generally playing badly. It's never worth building your rakeback pot if you're running the risk of losing a lot more through bad play, so don't put yourself in that position.
Again, don't let the presence of rakeback influence your playing tendencies. Rakeback works for you, not the other way around.
4) Believing that rakeback is not valuable at micro stakes games.
Not everyone believes this, but I know of a number of players that feel that rakeback isn't all that useful if you're a micro stakes player. Why the hell not? Rakeback is not exclusive to mid-stakes grinders ya' know, it's for everyone and anyone that wants to take advantage of it.
As a small stakes poker player, rakeback is going to be equally as valuable to you as it is for anyone else. Why pass up a great opportunity to add more money to your overall winnings and give yourself the opportunity to move up the stakes more quickly?
Get Full Tilt rakeback or rakeback at Aced Poker and start winning more money before another ill-advised player tries to convince you otherwise.
5) Forgetting that rakeback isn't everything.
This pretty much echo's point 1, but I'm going to go over it just one more time for good measure. The moral of the story here is that it's your money and your choice, so play wherever the f*ck you want.
If you love playing at a poker room because of the promotions, software, bonuses or ridiculously soft players, then continue playing there. It's not taboo to play at a non-rakeback room.
If you're a good player you're still going to win money without rakeback. I'd obviously prefer at a rakeback poker room when possible, but I'm not going to make myself feel bad for playing at PokerStars if I feel like doing so and neither should you.
Go back to the rakeback poker rooms.