Ask SplitSuit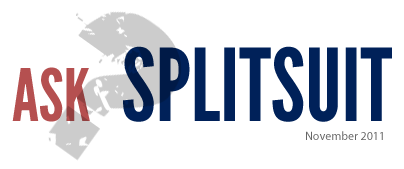 What is Ask Splitsuit?
In November 2011, visitors to ThePokerBank were given the opportunity to ask SplitSuit a question in an "Ask SplitSuit" section. The questions could be about anything. Here are all of the original questions SplitSuit received.
The questions and their answers (by SplitSuit) have been posted below.
The Q&A.
About SplitSuit.
James "SplitSuit" Sweeney is author of Dynamic Full Ring Poker: Beyond The Basics. He also coaches at his personal website www.SplitSuit.com. He uses the alias *Split* at the 2+2 forums, which is where you can find his famous contributions to the COTW thread.
Go back to the immense Texas Hold'em strategy videos.
Comments