Higher Level Poker Articles

| Title | Author | Category | Level | Date |
| --- | --- | --- | --- | --- |
| Calling From Blinds vs. A Steal | Jack Wilcox | General | Intermediate | 26 Feb, 2011 |
| Semi-Bluffing By Raising All In | Jack Wilcox | Plays | Advanced | 26 Feb, 2011 |
| 3Betting Preflop In The Micro Stakes | Jack Wilcox | Plays | Intermediate | 27 Feb, 2011 |
| The Real Objective Of Poker | Jack Wilcox | Psychology | Beginner | 27 Feb, 2011 |
| Continuation Betting | Jack Wilcox | Plays | Beginner | 26 Mar, 2011 |
| 4Betting Mathematics | Jack Wilcox | Mathematics | Advanced | 28 Mar, 2011 |
| Check-Raising As A Bluff | Jack Wilcox | Plays | Intermediate | 1 Apr, 2011 |
| Attacking 3Bettors | Jack Wilcox | General | Advanced | 3 Apr, 2011 |
| Preflop Opening Ranges | Kyle Garner | General | Beginner | 14 Apr, 2011 |
| Floating The Flop | Jack Wilcox | Plays | Beginner | 14 Apr, 2011 |
| Breaking Down Your Winrate | Jack Wilcox | General | Intermediate | 9 May, 2011 |
| Winning Money From Bad Players | Jack Wilcox | General | Intermediate | 22 Oct, 2011 |
| Playing Blind vs. Blind | Jack Wilcox | General | Advanced | 25 Oct, 2011 |
| The Importance Of Position | Jack Wilcox | General | Beginner | 6 Nov, 2011 |
| Relative Hand Strength | Jack Wilcox | Concepts | Beginner | 6 Nov, 2011 |
| 5 Tips To Improve Your Game | Jack Wilcox | General | Beginner | 29 Nov, 2011 |
| Objectivity In Poker | Kyle Garner | Psychology | Intermediate | 5 Dec, 2011 |
| Optimal Bet Sizing | Johnathan Chan | Concepts | Beginner | 20 Jan, 2012 |
These articles were originally posted on Jack Wilcox's Higher Level Poker training website. It hadn't been updated since Jack died in February 2012, and the design was falling behind, so I decided to edit and move the articles here in August 2020.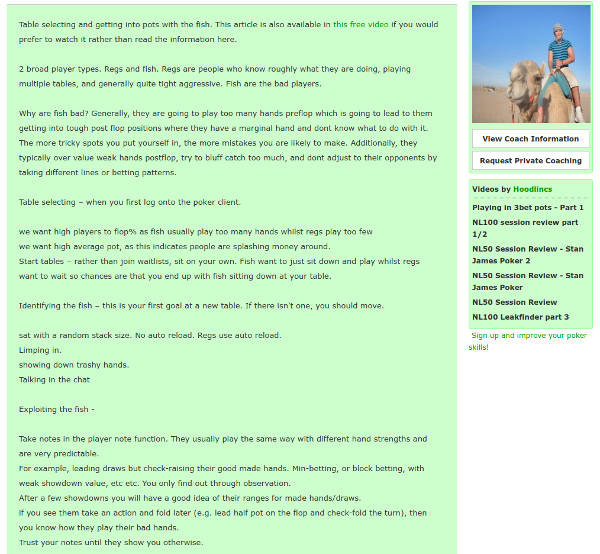 The majority of the strategy articles were written by Jack "Hoodlincs" Wilcox, with two articles by Jack "shipit2kg" Garner, and one by Johnathan "thatssosick" Chan.
Jack was a winning NL Hold'em cash game player up to $400NL. He took a technical approach to poker strategy, focusing on the use of ranges and equity to help influence his decisions. He also used a HUD when playing, and a lot of his advice involves analysis of a player's VPIP/PFR as the starting point for working out how to play a hand.
His advice is solid, and the techniques he used are still relevant today.
Some of the highlights include; Semi-Bluffing By Raising All In, 4Betting Mathematics, and Check-Raising As A Bluff. My personal favorite is The Real Objective Of Poker, in which Jack explains the ultimate goal of playing poker, and showcases his deep understanding of the game.
I hope you get as much benefit from the strategy articles from Higher Level Poker as I did — they wouldn't be here if I didn't think they were worth reading.
Greg.